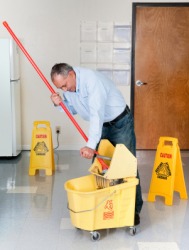 A janitor cleaning the floor.
noun
The definition of a janitor is someone in charge of cleaning a building and doing routine repairs.

An example of a janitor is a person who cleans up a school building.
---
janitor
Now Rare

a doorman or doorkeeper
the custodian of a building, who maintains the heating system, does routine repairs, general cleaning, etc.
Origin of janitor
L, doorkeeper from
janua,
door from
janus,
arched passageway: see Janus
---
janitor
noun
One who attends to the maintenance or cleaning of a building.
A doorman or doorwoman.
Origin of janitor
Latin
iānitor
doorkeeper
from
iānua
door
from
iānus
archway
; see
ei-
in Indo-European roots.
Related Forms:
Word History:
In Latin
iānus
was the word for "archway, gateway, or covered passage" and also for the god of gates, doorways, and beginnings in general, known in English as Janus. Our month January—a month of beginnings—is named for the god. Latin
iānitor,
the source of our word
janitor
and ultimately also from
iānus,
meant "doorkeeper or gatekeeper." Probably because
iānitor
was common in Latin records and documents, it was adopted into English. In an early quotation Saint Peter is called
"the Janitor of heaven."
The term can still mean "doorkeeper," but in Scots usage
janitor
also referred to a minor school official. Apparently this position at times involved maintenance duties and doorkeeping, and the maintenance duties took over the more exalted tasks, giving us the position of janitor as we know it today.
---
janitor

Origin
Latin ianitor (doorkeeper)
---