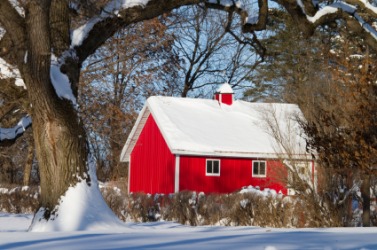 A red barn in the snow.
noun
The definition of a barn is a building separate from a main house, traditionally used for storing farm animals, equipment, or grain.

A place where chickens live and hay is stacked up is an example of a barn.
---
barn
a farm building for sheltering harvested crops, livestock, machines, etc.
a large building for streetcars, trucks, etc.

Origin of barn

arbitrary use, from phr. as big as a barn

Nuclear Physics

a unit of area used to show the degree of probability that a nuclear reaction will occur: 1 barn = a magnitude of 10 sq cm per nucleus: abbrev. b
Origin of barn
Middle English from Old English
bern, berern
from
bere,
barley +
ærn
, house: see rest
---
barn
noun
A large building for sheltering livestock, storing hay or other agricultural products, or housing equipment used for operating a farm.
A large shed for the housing of vehicles, such as railroad cars.
A particularly large, typically bare building: lived in a barn of a country house.
Abbr. b Physics A unit of area equal to 10−24 square centimeters, used to measure cross sections in nuclear physics.
Origin of barn
Middle English
bern
from
Old English
berærn
bere
barley
; see
bhares-
in Indo-European roots.
ærn
house
---
barn

Noun
(plural barns)
(agriculture) A building, often found on a farm, used for storage or keeping animals such as cattle.
(nuclear physics) A unit of surface area equal to 10-28 square metres.
(informal, Canada, ice hockey) An arena.

Maple Leaf Gardens was a grand old barn.
Verb
(third-person singular simple present barns, present participle barning, simple past and past participle barned)
To lay up in a barn.
Origin
Middle English bern, from Old English bereærn 'barn, granary', compound of bere 'barley' and ærn, ræn 'dwelling, barn', from Proto-Germanic *razną (cf. Old High German erin, Old Norse rann), from pre-Germanic -, from Proto-Indo-European *h₁erh₁- 'to rest'. More at rest and barley.
Noun
(plural barns)
(dialect, parts of Northern England) A child.
---