conductor

con·duc·tor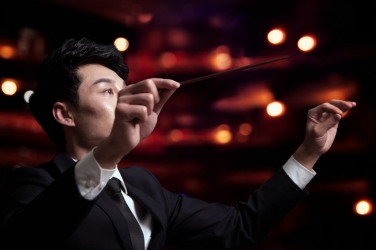 An orchestra conductor during a performance.
noun
The definition of a conductor is a person who leads an orchestra, who is in charge of a train or streetcar or something that allows electricity to travel through it to complete a circuit.

An example of a conductor is a maestro who leads the Boston Orchestra.
An example of a conductor is someone who collects tickets on a San Francisco cable car.
---
conductor
a person who conducts; leader; guide; manager
the director of an orchestra, choir, etc.
the person who has charge of the passengers and collects fares on a train, streetcar, or bus
a substance or thing that conducts electricity, heat, sound, etc.
---
conductor
noun
One who conducts, especially:

a. One who is in charge of a railroad train, bus, or streetcar.

b. Music One who directs an orchestra or other such group.

Physics A substance or medium that conducts heat, light, sound, or especially an electric charge.
A lightning rod, as on a house or barn.
Related Forms:
con′duc·to′ri·al

adjective
---
conductor

Noun
(plural conductors)
(music) A person who conducts an orchestra, choir or other music ensemble; a professional whose occupation is conducting.
A person who takes tickets on public transportation.

train conductor; tram conductor

Something that can transmit electricity, heat, light or sound.
(mathematics) An ideal of a ring that measures how far it is from being integrally closed
(architecture) A leader.
Origin
From Middle French conductour, from Old French conduitor, from Latin conductor.
---
conductor - Computer Definition

A substance that allows electricity, light, heat, sound, or other forms of energy to pass through. In the context of telecommunications transmission systems, a conductor allows electric current or photonic energy to pass through.
In fiber optics transmission systems, various highly specialized types of glass or plastic are used to conduct photonic energy. As dielectrics, glass and plastic are not conductors of electric current; therefore, optical fibers are immune to electromagnetic interference (EMI). See also EMI.
In electric circuits, such as twisted pair and coaxial cable systems, a conductor is a material that readily permits the flow of electrons through itself in response to an electric field. Metals are excellent electrical conductors because of the high concentration of free electrons.Telecommunications networks most commonly use copper in electrified circuits, although copper-covered steel, copper alloy, nickel- or goldplated copper, and even aluminum metallic conductor are used. Gold, silver, and platinum are sometimes used in short circuits internal to various devices such as switches. CATV networks make use of aluminum and copper-clad aluminum in coaxial cable trunks. See also dielectric and insulator.
---
---