noun
The definition of a shed is a small building used for storage or as a workshop.

An example of a shed is where people store their garden tools.
verb
Shed is defined as to give off or to cause to flow.

An example of to shed is crying tears.
An example of to shed is when a cat loses some of its hair when the weather starts to get warmer.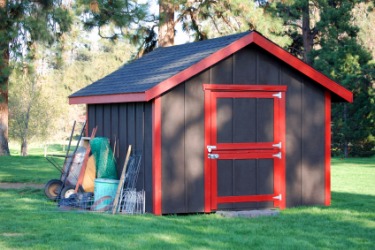 A garden shed.
---
shed
noun
a small, rough building or lean-to, used for shelter or storage, as a workshop, etc.
a large, strongly built, barnlike or hangarlike structure, often with open front or sides
Origin of shed
; from Middle English
shadde
, variant, variety of
shade
; from Old English
scead
, shelter, protection, shade
transitive verb
shed, shedding
to pour out; give off; emit
to cause to flow in a stream or fall in drops: to shed tears
to send forth or spread about; radiate; diffuse; impart: to shed confidence
to cause to flow off without penetrating; repel: oilskin sheds water

to cast off or lose (a natural growth or covering, as leaves, skin, hair, etc.)
to get rid of (something unwanted): to shed a few pounds
Origin of shed
Middle English
scheden
; from Old English
sceadan
, to separate, distinguish, akin to German
scheiden
, to cut, separate: for Indo-European base see sheath
intransitive verb
to shed a natural growth or covering, as hair
to drop off or fall out: said of leaves, seeds, etc.
noun
a ridge of high ground; specif., watershed
an opening in the warp threads of a loom for the shuttle to pass through
Origin of shed
ME
schede
, division
shed blood
to kill in a violent or bloody way
---
shed
verb
shed
shed
,
shed·ding
,
sheds
verb
, transitive
a. To have (a growth or covering) be disconnected or fall off by a natural process: a tree shedding its leaves; a snake shedding its skin; a dog shedding its hair.

b. To rid oneself of (something not wanted or needed): I shed 25 pounds as a result of my new diet.

c. To take off (an article of clothing).

a. To produce and release (a tear or tears).

b. Archaic To pour forth.

To repel without allowing penetration: A duck's feathers shed water.
To diffuse or radiate; send forth or impart: a lamp that sheds a lot of light.
verb
, intransitive
To lose a natural growth or covering by natural process: The cats are shedding now.
noun
An elevation in the earth's surface from which water flows in two directions; a watershed.
Something, such as an exoskeleton or outer skin, that has been shed or sloughed.
The space made by raising certain warp threads on a loom and lowering others, allowing the woof to be passed between them.
Origin of shed
Middle English
sheden
,
to separate, shed
, from Old English
scēadan
,
to divide
; see
skei-
in Indo-European roots.
noun
A small structure, either freestanding or attached to a larger structure, serving for storage or shelter.
A large low structure often open on all sides.
Origin of shed
Alteration of Middle English
shadde
, perhaps variant of
shade
,
shade
; see
shade
.
---
shed
Verb
(third-person singular simple present sheds, present participle shedding, simple past and past participle shed)
(intransitive) To part with, separate from, leave off; cast off, let fall, be divested of.

You must shed your fear of the unknown before you can proceed.
When we found the snake, it was in the process of shedding its skin.

(archaic) To pour; to make flow.
To allow to flow or fall.

I didn't shed many tears when he left me.
A tarpaulin sheds water.

To sprinkle; to intersperse; to cover.
Origin
From Middle English sheden, scheden, schoden, from Old English scēadan, scādan ("to separate, divide, part, make a line of separation between; remove from association or companionship; distinguish, discriminate, decide, determine, appoint; shatter, shed; expound; decree; write down; differ"), from Proto-Germanic *skaiþaną (cf. West Frisian skiede, Dutch/German scheiden), from Proto-Indo-European *skēi-t-, zero grade of *skeh₁i-d 'to cut' (cf. Welsh chwydu 'to break open', Lithuanian skíesti 'to separate', Old Church Slavonic чѣдити (čĕditi) 'to filter, strain', Ancient Greek σχίζω (skhizō, "to split"), Old Armenian ցտեմ (cʿtem, "to scratch"), Sanskrit च्यति (chyáti) 'he cuts off'). Related to shoad; shit.
Origin
Old English scēad, from Germanic. Cognate with German Scheitel 'hair parting'.
Noun
(plural sheds)
A slight or temporary structure built to shade or shelter something; a structure usually open in front; an outbuilding; a hut.

a wagon shed; a wood shed; a garden shed

(UK, derogatory, informal) An automobile which is old, worn-out, slow, or otherwise of poor quality.
---
shed
Variant of shed
noun
a small, rough building or lean-to, used for shelter or storage, as a workshop, etc.
a large, strongly built, barnlike or hangarlike structure, often with open front or sides
Origin of shed
; from Middle English
shadde
, variant, variety of
shade
; from Old English
scead
, shelter, protection, shade