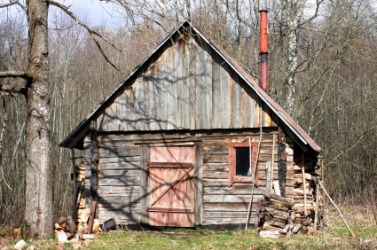 A shack in the woods.
noun
The definition of a shack is a small house with crude construction.

An example of a shack is a broken down cabin.
---
shack
a small house or cabin that is crudely built and furnished; shanty
Origin of shack
from uncertain or unknown; perhaps American Spanish
jacal
from Nahuatl
xacalli
, wooden hut
shack up
to live or room (in a certain place)
to live (with one's lover)
---
shack
noun
A small, crudely built building; a shanty.
intransitive verb
shacked, shack·ing, shacks
To live or dwell: farm hands shacking in bunkhouses.
Origin of shack
Probably back-formation from
dialectal (chiefly southern United States)
shackly
rickety
perhaps from
English dialectal
shackle
to litter, disorder
frequentative of
shake
---
shack

Noun
(plural shacks)
Any unpleasant, poorly constructed or poorly furnished building.
Verb
(third-person singular simple present shacks, present participle shacking, simple past and past participle shacked)
To live in or with; to shack up.
Origin
Some authorities derive this word from Nahuatl xacalli ("adobe hut") , but other authorities consider this phonologically impossible and relate the word instead to ramshackle.
Noun
(uncountable)
1996, J M Neeson, Commoners

The fields were enclosed by Act in 1791, and Tharp gave the cottagers about thirteen acres for their right of shack.
Verb
(third-person singular simple present shacks, present participle shacking, simple past and past participle shacked)
---