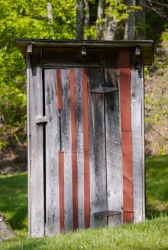 An old backhouse or outhouse.
---
outhouse
noun
a building separate from but located near a main building or dwelling
☆ a small structure used for defecating or urinating, typically having a seat with a hole over a deep pit
---
outhouse
noun
A small, enclosed structure having one or two holes in a seat built over a pit and serving as an outdoor toilet.
An outbuilding, as on a farm.
---
outhouse
Noun
(plural outhouses)
(dated) An outbuilding, a small structure located away, or not directly accessed from, a main building.
(North America) An outbuilding containing a toilet, often just a seat over a cesspool
Usage notes
The term outhouse usually refers to a permanent facility. Where an outdoor toilet is installed on a temporary basis, variants of portable toilet such as portapotty are generally used. The dated slang john and johnny house are sometimes also used to identify such toilet.
---