noun
The definition of a barnacle is a small crustacean that affixes itself to surfaces such as a rock, a large sea animal, or the part of a boat that is in the water.

A shellfish that spends its adult life attached to a boat is an example of a barnacle.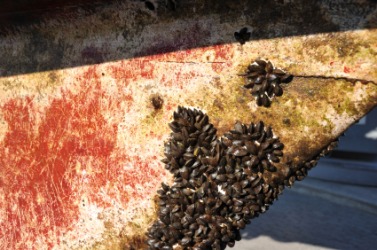 Barnacles on the hull of a ship.
---
barnacle definition by Webster's New World
noun
barnacle goose
any member of various orders of saltwater cirriped crustaceans that cement themselves to rocks, wharves, ship bottoms, etc. and to other animals, as whales, after a free-swimming larval stage
a person or thing hard to get rid of
Origin: Middle English bernacle, earlier bernak ; from Middle Irish bairnech and amp; Breton bernik, kind of shellfish: ultimately via Gaulish an unverified form berna, split ; from Indo-European base an unverified form bher-, to slit
Webster's New World College Dictionary Copyright © 2010 by Wiley Publishing, Inc., Cleveland, Ohio. Used by arrangement with John Wiley & Sons, Inc.
---
barnacle definition by American Heritage Dictionary
noun
Any of various marine crustaceans of the subclass Cirripedia that in the adult stage form a hard shell and remain attached to submerged surfaces, such as rocks and ships' bottoms.
The barnacle goose.
Origin: Middle English, barnacle goose, from Old French bernacle, from Medieval Latin bernacula, diminutive of bernaca, perhaps from Old Irish báirneach, limpet.
Related Forms:
Word History:
The word
barnacle
is known from as far back as the early 13th century. At that time it did not refer to the crustacean, as it does nowadays, but rather to a species of waterfowl presently known as the barnacle goose; more than 300 years went by before
barnacle
was used to refer to the crustacean. One might well wonder what the connection between these two creatures is. The answer lies in natural history. Until fairly recent times, it was widely believed that certain animals were engendered spontaneously from particular substances. Maggots, for instance, were believed to be generated from rotting meat. The barnacle goose breeds in the Arctic, a fact not known for a long time; since no one ever witnessed the bird breeding, it was thought to be spontaneously generated from trees along the shore, or from rotting wood. Wood that has been in the ocean for any length of time is often dotted with barnacles, and it was natural for people to believe that the crustaceans were also engendered directly from the wood, like the geese. In fact, as different as the two creatures might appear to us, they share a similar trait: barnacles have long feathery cirri that are reminiscent of a bird's plumage. This led one writer in 1678 to comment on the "multitudes of little Shells; having within them little Birds perfectly shap'd, supposed to be Barnacles [that is, barnacle geese]." In popular conception the two creatures were thus closely linked. Over time the crustacean became the central referent of the word, and the bird was called the
barnacle goose
for clarity, making
barnacle goose
an early example of what we now call a retronym.
The American Heritage® Dictionary of the English Language, 4th edition Copyright © 2010 by Houghton Mifflin Harcourt Publishing Company. Published by Houghton Mifflin Harcourt Publishing Company. All rights reserved.
---
barnacle - Computer Definition
---
barnacle - Science Definition
Any of various small marine crustaceans of the subclass Cirripedia that form a hard shell in the adult stage and attach themselves to underwater surfaces, such as rocks, the bottoms of ships, and the skin of whales.