marry

mar·ry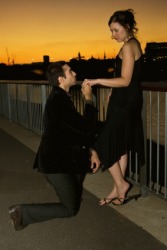 A man asks his girlfriend to marry him.
verb
The definition of marry is to become wedded to someone and become a husband or wife, or the act of pronouncing a couple as wed, or the act of joining two things together.

When you give someone a wedding ring and say "I do," this is an example of a situation where you marry.
---
marry
transitive verb
-·ried

,

-·ry·ing
to join as spouses; unite in wedlock
to join (an individual) to another as his or her spouse

to take as spouse; take in marriage
to join closely or intimately; unite
Origin of marry
Middle English
marien
from Old French
marier
from Classical Latin
maritare
from
maritus
, a husband, married, probably from Indo-European base an unverified form
meri
, young wife, akin to an unverified form
meryo
, young man from source Sanskrit
márya-
, man, young man, suitor
to get married; take a spouse
to enter into a close or intimate relationship; unite
marry off
to give in marriage: they married off the last of their children
Archaic
used to express surprise, anger, etc., or, sometimes, merely to provide emphasis
Origin of marry
euphemistic respelling of (the Virgin) Mary
---
marry
verb
mar·ried, mar·ry·ing, mar·ries
verb
transitive
a. To join in marriage: They have been married for 25 years.

b. To take as a spouse: She married him two years ago.

c. To give in marriage: They married their daughter to a nobleman.

To perform a marriage ceremony for: The rabbi married the couple.
To obtain by marriage: marry money.
Nautical To join (two ropes) end to end, as by splicing or seizing.
To unite in a close, usually permanent way: "His material marries the domestic and the exotic" ( Clifton Fadiman )
verb
intransitive
To enter into marriage; wed: They married in their twenties.
To combine or blend agreeably: Let the flavors marry overnight.
Origin of marry
Middle English
marien
from
Old French
marier
from
Latin
marītāre
from
marītus
married
interjection
Archaic
Used as an exclamation of surprise or emphasis.
Origin of marry
Middle English
Marie
the Virgin Mary
ultimately from
Greek
Maria
; see
Mary
1
.
---
marry

---