noun
The definition of a couple is two items of a similar kind or two people in a romantic relationship.

An example of a couple is a salt and pepper shaker set.
An example of a couple is a husband and wife.
verb
Couple means to link together or to pair up.

An example of to couple is to put students in groups of two.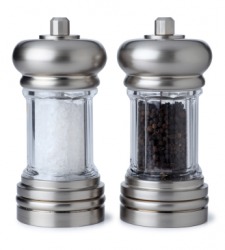 Salt and pepper shakers are a couple.
---
couple definition by Webster's New World
noun
anything joining two things together; bond; link
two things or persons of the same sort that are somehow associated
two people, esp. a man and woman, who are engaged, married, or joined as partners, as in a dance or game

Informal

an indefinite small number; a few [a couple of ideas]: now often used with adjectival force, omitting the of: a couple cups of coffee

Elec.

two dissimilar metals or alloys placed in electrical contact with each other to create a galvanic or thermoelectric current; voltaic couple

Mech.

two equal forces producing rotation by moving in parallel but opposite directions
Origin: Middle English ; from Old French cople ; from Classical Latin copula, a band, link: see copula
transitive verb
coupled, coupling
to join together by fastening or by association; link; connect

Archaic

to join in marriage

Elec.

to join (two or more circuits) by a common magnetic or electric field or by direct connection
Origin: ME couplen < OFr copler < L copulare < copula
intransitive verb
to come together; unite
to unite in sexual intercourse; copulate
Webster's New World College Dictionary Copyright © 2010 by Wiley Publishing, Inc., Cleveland, Ohio. Used by arrangement with John Wiley & Sons, Inc.
---
couple definition by American Heritage Dictionary
noun
Two items of the same kind; a pair.
Something that joins or connects two things together; a link.
(used with a sing. or pl. verb)

a. Two people united, as by betrothal or marriage.

b. Two people together.

Informal A few; several: a couple of days.
Physics A pair of forces of equal magnitude acting in parallel but opposite directions, capable of causing rotation but not translation.
verb
cou·pled
,
cou·pling
,
cou·ples
verb
, transitive
To link together; connect: coupled her refusal with an explanation.

a. To join as spouses; marry.

b. To join in sexual union.

Electricity To link (two circuits or currents) as by magnetic induction.
verb
, intransitive
To form pairs; join.
To unite sexually; copulate.
To join chemically.
adjective
Informal
Two or few: "Every couple years the urge strikes, to . . . haul off to a new site" (Garrison Keillor).
Origin: Middle English, from Old French, from Latin cōpula, bond, pair.
Usage Note:
When used to refer to two people who function socially as a unit, as in
a married couple,
the word
couple
may take either a singular or a plural verb, depending on whether the members are considered individually or collectively:
The couple were married last week. Only one couple was left on the dance floor.
When a pronoun follows,
they
and
their
are more common than
it
and
its: The couple decided to spend their
(less commonly
its
)
vacation in Florida.
Using a singular verb and a plural pronoun, as in
The couple wants their children to go to college,
is widely considered to be incorrect. Care should be taken that the verb and pronoun agree in number:
The couple want their children to go to college.
 • Although the phrase
a couple of
has been well established in English since before the Renaissance, modern critics have sometimes maintained that
a couple of
is too inexact to be appropriate in formal writing. But the inexactitude of
a couple of
may serve a useful purpose, suggesting that the writer is indifferent to the precise number of items involved. Thus the sentence
She lives only a couple of miles away
implies not only that the distance is short but that its exact measure is unimportant. This usage should be considered unobjectionable on all levels of style. • The
of
in the phrase
a couple of
is often dropped in speech, but this omission is usually considered a mistake, especially in formal contexts. Three-fourths of the Usage Panel finds the sentence
I read a couple books over vacation
to be unacceptable; however, another 20% of the Panel finds the sentence to be acceptable in informal speech and writing.