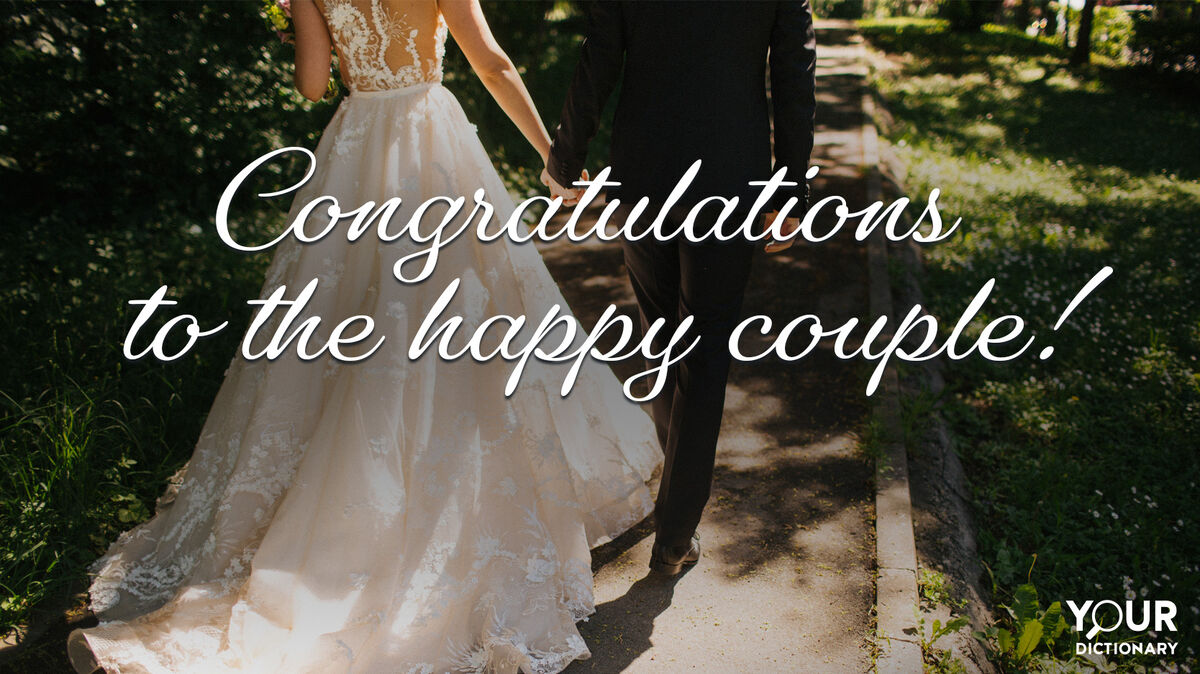 One of the most wonderful events in the life of a couple is their wedding day, and well-wishers will want to find the right words to congratulate the happy couple. Discover the perfect words of congratulations for a wedding card, speech or caption.
Words of Congratulations for a Wedding Card
If the couple is very close to you, you may want to buy a blank card and fill it with your own personalized sentiments. Writing your own words can make a card more special and convey the message you intend.
Formal Wedding Well Wishes
If you don't know the couple that well or know them in a more professional capacity, you'll want to keep it classy but not boring.
Some short, sweet options you can feature in a card with a wedding gift include:

Congratulations on your wedding!

Best wishes on this joyous occasion!

Wishing you love and happiness in your life together.

Congratulations on your big day!

May you have a long and happy life together.

Here's to a long and happy marriage.

So happy to share this day with you. Congratulations!

Congratulations to the happy couple!

Heartfelt congratulations.
Casual Wedding Well Wishes
These messages are more familiar and personal, so you can use casual language and all the affectionate terms you'd like to express your happiness for the couple.

Lots of love!

You're the best. Love ya.

Wishing you the best today and forever.

Thrilled for you guys. Congratulations!

I'm so grateful to have you both in my life.

Hugs and kisses.

Congratulations! You did it!

You deserve the best forever and always.

You guys are so perfect for each other. Love you!

May your marriage be blessed with love, laughter and happiness.

Congrats on tying the knot!

Let this be the start of many adventures together.

Couldn't have happened to two better people. Lots of love!

Seasons may change, but love is everlasting. Congratulations on this new season.
Welcome to the Family Messages
If the happy couple are your family and soon to be in-law, send them a heartfelt message that lets them know you're excited to have them join the family.

We couldn't be happier to welcome you into our family.

Today our family tree grew a new branch.

We feel so blessed to call you our son/daughter.

I'm so happy to call you my brother/sister and brother-in-law/sister-in-law. Congratulations on your big day.

Welcome to our big, crazy family! We know you fit right in. Congratulations and love you both.

Our family just got bigger, and so did our smiles.

When we dreamed of this day, we never could have imagined just how perfect it would be and how well the two of you would complement each other.
Messages of Congratulations on Social Media
If you learn about the couple's engagement through social media, you can express your message of congratulations on that platform. Or perhaps you can't make it for the wedding, but want to wish the couple well. You can keep it casual (not to mention be generous with GIFs and emojis) or use all your allotted characters to express your happiness for the couple.
Wow, congratulations! Love you both!

This is amazing! You two are so perfect for each other.

I'm so thrilled for you! May your life be filled with love, joy and laughter.

Finally! Congratulations to my favorite couple!

Congratulations! May you look back on this day and experience this same joy that you're feeling now every day of your life.

I hope you have a spectacular life together. You deserve it!
Opening and Closing Words for a Wedding Speech
Whether you've been asked to give a brief speech or the spirit moves you to give a toast, you'll want to be prepared to share a few words. Your speech will be customized to reflect your personal relationship with the bride or groom and your role in the wedding.
Opening Lines of Congratulations for a Wedding Speech
Put yourself in the place of the soon-to-be newlyweds, and imagine the words you'd want to hear your family and friends say. You can open with a humorous anecdote, a touching tale or congratulatory words.
I'd like to congratulate the couple once again on this beautiful occasion. You have amazing taste in partners, as well as best men/maids of honor.

I'd like to begin by saying what an honor it is to be the best man/maid of honor. You chose me, just like you chose each other, and I'm incredibly grateful.

I thought I might open with a joke or an embarrassing story, but looking at these beautiful people now, I see nothing to joke about. Only two incredible, inspirational people in love who I'm proud to call friends/family. Congratulations!

Everyone please join me in wishing a world of happiness to the beautiful couple. Congratulations on your wedding day!

May I present _____ and _____. I hope all your days are as exciting and memorable as this one.

Congratulations on starting your life together! May the years be filled with joy, laughter and adventure.
Closing Congratulations for a Wedding Speech
While the body of your speech will vary widely depending on the approach you take and the couple you are toasting, you'll want to close your speech with a sincere, heartfelt gesture or advice followed by more congratulations.

Ladies and gentlemen, the bride and groom!

May you experience a life of health, wealth and happiness together.

To a lifetime of happiness, adventure and building memories.

I feel blessed to know you both, and I wish you all the joy and happiness this life has to offer.

Now a new chapter of your lives has begun, and the best part is you get to write it together. So go forth and make it a bestseller!

Please join me in welcoming ____ and _____. Congratulations!