residence

res·i·dence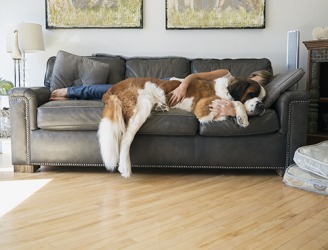 Renee's sister's couch was only a temporary residence until she could find a suitable apartment for herself and her dog Baxter.
noun
The definition of a residence is the place where a person lives, or the act of living in a place.

An example of residence is where you live.
An example of residence is someone living in a temporary location for a couple of weeks.
---
residence
the act or fact of residing
the fact or status of living or staying in a place while working, going to school, carrying out official duties, etc., esp. long enough to qualify for certain rights, privileges, etc.
the place in which a person or thing resides; dwelling place; abode; esp., a house
a large or imposing house; mansion
the time during which a person resides in a place
Origin of residence
Middle English from Middle French from Medieval Latin
residentia
---
residence
noun
The place in which one lives; a dwelling.
The act or a period of residing in a place.
A medical residency.
The official home or location of a corporation.
---
residence

Noun
(plural residences)
The place where one lives.
The place where a corporation is established.
The state of living in a particular place or environment.
The place where anything rests permanently.
subsidence, as of a sediment
Origin
From Medieval Latin residentia, from Latin resident- stem of residentis, from resideo.
---
residence - Legal Definition
n
A place of abode with some permanence; residence requires bodily presence and is distinct from domicile, which requires both bodily presence and intent to make it one's home. A person may have many places of residence, but only one domicile; a house or apartment; the place where a corporation does business, or is registered to do business. See also
domicile
.
---