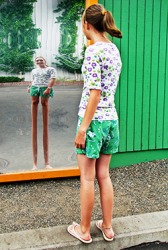 Taylor looked skewed in the funhouse mirror with her legs appearing extra long and her torso super short.
verb
To skew is to twist something so it is not straight or to distort something so it is biased or unfair.

An example of skew is when you fix a contest so it is biased in favor of your friends.
---
skew
to take a slanting or oblique course or direction; swerve or twist
to squint or glance sideways (at)
Origin of skew
Middle English
skewen
from Norman French
eskiuer
, altered from Old French
eschiver
: see eschew
to make slanting or oblique; set at a slant
to bias, distort, or pervert
turned aside or to one side; slanting; oblique
having a part or arrangement that is so turned, as in gearing having the shafts neither parallel nor intersecting
not symmetrical
a slant or twist
a slanting part or movement
---
skew
verb
skewed, skew·ing, skews
verb
transitive
To turn or place at an angle: skew the cutting edge of a plane.
To give a bias to; distort: The use of a limited sample skewed the findings of the study.
verb
intransitive
To take an oblique course or direction.
To look obliquely or sideways.
To display a statistical tendency toward: a television program that skews toward teenagers.
adjective
Placed or turned to one side; asymmetric.
Distorted or biased in meaning or effect.
Having a part that diverges, as in gearing.

a. Mathematics Neither parallel nor intersecting. Used of straight lines in space.

b. Statistics Not symmetrical about the mean. Used of distributions.
noun
An oblique or slanting movement, position, or direction.
Origin of skew
Middle English
skewen
to escape, run sideways
from
Old North French
eskiuer
of Germanic origin
Related Forms:
---
skew

Verb
(third-person singular simple present skews, present participle skewing, simple past and past participle skewed)
To change or alter in a particular direction.

A disproportionate number of female subjects in the study group skewed the results.

(intransitive) To walk obliquely; to go sidling; to lie or move obliquely.
(intransitive) To look obliquely; to squint; hence, to look slightingly or suspiciously.
Adverb
(comparative more skew, superlative most skew)
Awry; obliquely; askew.
Origin
From Old French escuer, eskiuer, northern variants of eschuer, eschiver, eschever.
---
skew - Computer Definition
(1) The misalignment of a document or punch card in the feed tray or hopper that prohibits it from being scanned or read properly.
(2) In facsimile, the difference in rectangularity between the received and transmitted page.
(3) In communications, a change of timing or phases in a transmission signal.
(4) See cylinder skew and head skew.
---