scroll
[

skrōl

]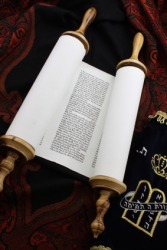 This scroll is the Torah.
noun
The definition of a scroll is a rolled up piece of printed or written material.

An example of a scroll is a Torah, the traditional Hebrew bible.
verb
To scroll is to move up and down or across a page on an electronic device using a mouse or touch screen.

Scroll means using your mouse to look at a website from top to bottom.
---
scroll
noun
a roll of parchment, paper, etc., usually with writing or pictures on it
an ancient book in the form of a rolled manuscript
a list of names; roll; roster: the scroll of fame
anything having the form of a partly unrolled or loosely rolled sheet of paper, as the volute of an Ionic capital, or the ornamentally rolled end of the neck of a violin, etc.
Origin of scroll
Middle English
scrowle
, altered (? by associated, association with
rowle
, variant, variety of
rolle
, roll) ; from
scrowe
; from Old French
escroue
: see escrow
intransitive verb
,
transitive verb
to display (lines of text, television credits, etc.) by moving them vertically or horizontally on a video screen
---
scroll
noun
a. A roll, as of parchment or papyrus, used especially for writing a document.

b. An ancient book or volume written on such a roll.

A list or schedule of names.
An ornament or ornamental design that resembles a partially rolled scroll of paper, as the volute in Ionic and Corinthian capitals.
Music The curved head on an instrument of the violin family.
Heraldry A ribbon inscribed with a motto.
verb
scrolled
scrolled
,
scroll·ing
,
scrolls
verb
, transitive
To inscribe on a scroll.
To roll up into a scroll.
To ornament with a scroll.
Computers To cause (displayed text or graphics) to move up, down, or across the screen so that a line of text or graphics appears at one edge of the screen for each line that moves off the opposite edge: scroll a document; scroll a page of text.
verb
, intransitive
Computers
To cause displayed text or graphics to move up, down, or across the screen: scrolled down to the end of the document.
To appear onscreen and roll by: "The information scrolls so fast it's unreadable" (Creative Computing).
Origin of scroll
Middle English
scrowle
, alteration (influenced by
rolle
,
roll
) of
scrowe
, from Old French
escroue, escroe
,
strip of parchment, scroll
,
of Germanic origin
.
Related Forms:
scroll
top: c. 1641 Dutch scroll of the Book of Esther
bottom: on a violin
scroll
---
scroll
Noun
(plural scrolls)
A roll of paper or parchment; a writing formed into a roll; a schedule; a list.
(architecture) An ornament formed of undulations giving off spirals or sprays, usually suggestive of plant form. Roman architectural ornament is largely of some scroll pattern.
A mark or flourish added to a person's signature, intended to represent a seal, and in some States allowed as a substitute for a seal. [U.S.] Alexander Mansfield Burrill.
Scroll-shaped end of a violin.
(geometry) a skew surface.
Verb
(third-person singular simple present scrolls, present participle scrolling, simple past and past participle scrolled)
(computing) To change one's view of data on a computer's display, typically using a scroll bar or a scroll wheel.

She scrolled the offending image out of view.

(intransitive) To move in or out of view horizontally or vertically.

The rising credits slowly scrolled off the screen.

(Internet, intransitive) To flood a chat system with numerous lines of text, causing legitimate messages to scroll out of view before they can be read.

Hey, stop scrolling!
Origin
A diminutive of Old English scroue, scrowe, Late Latin scroa scroll, probably of Teutonic origin.
---
scroll - Computer Definition
To continuously move forward, backward or sideways through the text and images on screen or within a window. Scrolling implies continuous and smooth movement, a line, character or pixel at a time, as if the data were on a paper scroll being rolled behind the screen. See auto scroll.
---