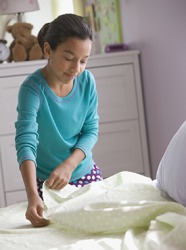 Luciana gets her room in shipshape every morning before school.
adjective
The definition of shipshape is extremely neat and tidy.

An example of something shipshape is a room where every last item is in its place and there is not a speck of dust to be found.
---
shipshape
having everything neatly in place, as on board ship; trim
in a neat and orderly manner
---
shipshape
adjective
Orderly and neat; tidy: made sure the room was shipshape before the guests arrived.
Origin of shipshape
Short for
obsolete
shipshapen
arranged as a ship should be
ship
shapen
past participle of
shape
Related Forms:
---
shipshape

Origin
ship +"Ž shape; of nautical origin, based on the obligation of a sailor to keep his/her quarters arranged neatly and securely against the inevitable turbulence at sea. It also implies a neat and efficient packing to fit into the limited space typically allotted to service members aboard ship.
---