sailor
[sā′lər]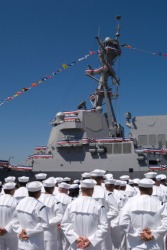 A group of sailors on the deck of their ship.
noun
The definition of a sailor is a person who lives, works or travels by sea.

An example of a sailor is a person serving in the navy.
---
sailor
noun
a person who makes a living by sailing; mariner; seaman

an enlisted man in the navy
any person in the navy

a person sailing on a vessel, as affected by seasickness: a good or bad sailor
a straw hat with a low, flat crown and flat brim
Origin of sailor
Middle English
sailer
---
sailor
noun
One who serves in a navy or works on a ship.
One who travels by water.
A low-crowned straw hat with a flat top and flat brim.
---
sailor
Noun
(plural sailors)
One who follows the business of navigating ships or other vessels; one who understands the practical management of ships; one of the crew of a vessel; a mariner; a common seaman.
---