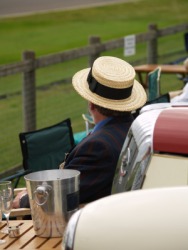 A man wearing a boater.
---
boater
noun
a stiff hat of braided straw, with a flat crown and brim
a person who boats
Origin of boater
boat + -er: origin, originally worn when boating
---
boater
noun
One that drives or rides in a boat, especially a pleasure craft.
A stiff straw hat with a flat crown.
---
boater
Noun
(plural boaters)
(nautical) One who works on a boat, especially as captain.
---