adjective
The definition of bum is of poor quality, ailing, or false or invalid.

An example of bum is a broken limb.
noun
A bum is defined as a person who is lazy and does not work by choice.

An example of bum is a person who lays around drinking all day and doing nothing productive.
verb
Bum is slang for borrowing without planning to return.

An example of bum is to take $5 from a friend and never give it back.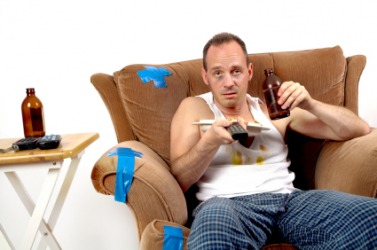 This man's a bum.
---
bum definition by Webster's New World
☆
noun
a vagrant, hobo, tramp, or beggar; specif., a shabby, often drunken derelict
any shiftless or irresponsible person, loafer, idler, etc.
a devotee, as of golf or skiing, who devotes so much time to the sport as to disrupt family life, career, etc.
an incompetent person, esp. an athlete
Origin: ; from bummer, probably ; from German bummler, loafer, habitually tardy person ; from bummeln, to go slowly, waste time
intransitive verb
bummed, bumming
to live as a bum or vagrant
to live by begging or sponging on people
transitive verb
Slang
to get by begging or sponging; cadge:
to bum a cigarette
noun
Brit., Slang
the buttocks
Origin: Middle English bom ; from uncertain or unknown; perhaps botem, bottom, as Dutch dialect, dialectal boem ; from bodem, and amp; obsolete eastern; English bummery for bottomry
Webster's New World College Dictionary Copyright © 2010 by Wiley Publishing, Inc., Cleveland, Ohio. Used by arrangement with John Wiley & Sons, Inc.
---
bum definition by American Heritage Dictionary
noun
A tramp; a vagrant.
A lazy or shiftless person, especially one who seeks to live solely by the support of others.
An incompetent, insignificant, or obnoxious person: The batter called the pitcher a bum.
One who is devoted to a particular activity or milieu: a beach bum.
verb
bummed
bummed
,
bum·ming
,
bums
verb
, intransitive
To live by begging and scavenging from place to place. Often used with around.
To loaf.
verb
, transitive
To acquire by begging; cadge. See Synonyms at cadge.
Slang To depress, dishearten, or dismay. Often used with out.
adjective
Inferior; worthless: gave me bum advice; did a bum job of fixing the car.
Disabled; malfunctioning: a bum shoulder.
Unfavorable or unfair: got a bum deal on my final grade for the course.
Unpleasant; lousy: had a bum time at the party.
Origin: Back-formation from bummer.
noun
Chiefly British Slang
The buttocks.
Origin: Middle English bom.
The American Heritage® Dictionary of the English Language, 4th edition Copyright © 2010 by Houghton Mifflin Harcourt Publishing Company. Published by Houghton Mifflin Harcourt Publishing Company. All rights reserved.
---
bum - Phrases/Idioms
bum someone out
☆
Slang
to upset, distress, annoy, depress, bore, etc. someone
give (or get) the bum's rush
Slang
to eject (or be ejected) forcibly
on the bum
Informal
living as a vagrant
out of repair; broken
on the bum
Living as a vagrant or tramp.
Out of order; broken.