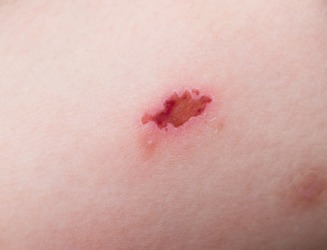 A scab formed over a mosquito bite.
noun
The definition of a scab is a rough or crusty piece of skin, especially one that forms over a healing wound, or a worker who refuses to strike.

An example of a scab is a crust over a cut.
An example of a scab is a person who takes over the job of a worker who is striking against an employer.
verb
Scab is defined as for a crusty surface to form over a wound.

An example of scab is for a cut to begin to heal.
---
scab
a crust that forms over a sore or wound during healing
a mangy skin disease, as scabies, of animals, esp. sheep

any of various plant diseases characterized by roughened, scablike spots on leaves, stems, or fruits
any such spot

: usually a term of contempt or derision

Slang

a low, contemptible fellow; scoundrel
a worker who refuses to join a union, or who works for lower wages or under different conditions than those accepted by the union
a worker who refuses to strike, or who takes the place of a striking worker
Origin of scab
Middle English
scabbe
from Old Norse
skabb
, akin to Old English
sceabb
from Indo-European base an unverified form
(s)kep-
, to cut, split from source Classical Latin
scabies
, scabies,
scabere
, to shave
intransitive verb
scabbed

,

scab′bing
to become covered with a scab; form a scab
to work or act as a scab
---
scab
noun
A crust discharged from and covering a healing wound.
Scabies or mange in domestic animals or livestock, especially sheep.

a. Any of various plant diseases caused by fungi or bacteria and resulting in crustlike spots on fruit, leaves, or roots.

b. The spots caused by such a disease.

Slang A person regarded as contemptible.

a. A worker who refuses membership in a labor union.

b. An employee who works while others are on strike; a strikebreaker.

c. A person hired to replace a striking worker.
intransitive verb
scabbed, scab·bing, scabs
To become covered with scabs or a scab.
To work or take a job as a scab.
Origin of scab
Middle English
from
Old Norse
skabb
---
scab

---