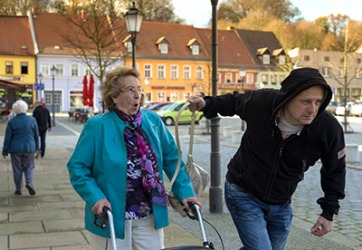 The scoundrel grabbed the elderly woman's purse but he was caught by good samaritans further down the street.
noun
The definition of a scoundrel is a villain or a dishonest, wicked or mischievous person.

The town thief who is always stealing from the local stores is an example of a scoundrel.
---
scoundrel
a mean, immoral, or wicked person; rascal
Origin of scoundrel
probably a disparaging diminutive from Anglo-French
escoundre
(for Old French
escondre
), to abscond from Vulgar Latin an unverified form
scondere
, aphetic for Classical Latin
abscondere
, abscond
---
scoundrel
noun
A villain; a rogue.
Origin of scoundrel
Origin unknown
Related Forms:
---
scoundrel

Noun
(plural scoundrels)
A mean, worthless fellow; a rascal; a villain; a person without honour or virtue.
Origin
Possibly related to northern English or Scottish scunner: "to shrink back in fear or loathing" (Encyclopædia Britannica 1911).
---