verb
The definition of bummed is slang for feeling upset or disappointed, or to have traveled around without a specific destination.

When you felt sad because your football team lost, this is an example of a time you were bummed.
When you traveled idly around Europe, this is an example of a time when you bummed around Europe.
YourDictionary definition and usage example. Copyright © 2013 by LoveToKnow Corp.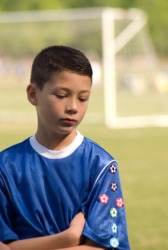 A boy bummed because his team lost.
Licensed from iStockPhoto
---
adjective
Slang
depressed, upset, distressed, annoyed, etc.: usually with
out
Origin: ; from bum
Webster's New World College Dictionary
Copyright © 2010 by Wiley Publishing, Inc., Cleveland, Ohio.
Used by arrangement with John Wiley & Sons, Inc.
bummed
Variant of bum
☆
noun
a vagrant, hobo, tramp, or beggar; specif., a shabby, often drunken derelict
any shiftless or irresponsible person, loafer, idler, etc.
a devotee, as of golf or skiing, who devotes so much time to the sport as to disrupt family life, career, etc.
an incompetent person, esp. an athlete
Origin: ; from bummer, probably ; from German bummler, loafer, habitually tardy person ; from bummeln, to go slowly, waste time
intransitive verb
bummed, bumming
to live as a bum or vagrant
to live by begging or sponging on people
transitive verb
Slang
to get by begging or sponging; cadge:
to bum a cigarette