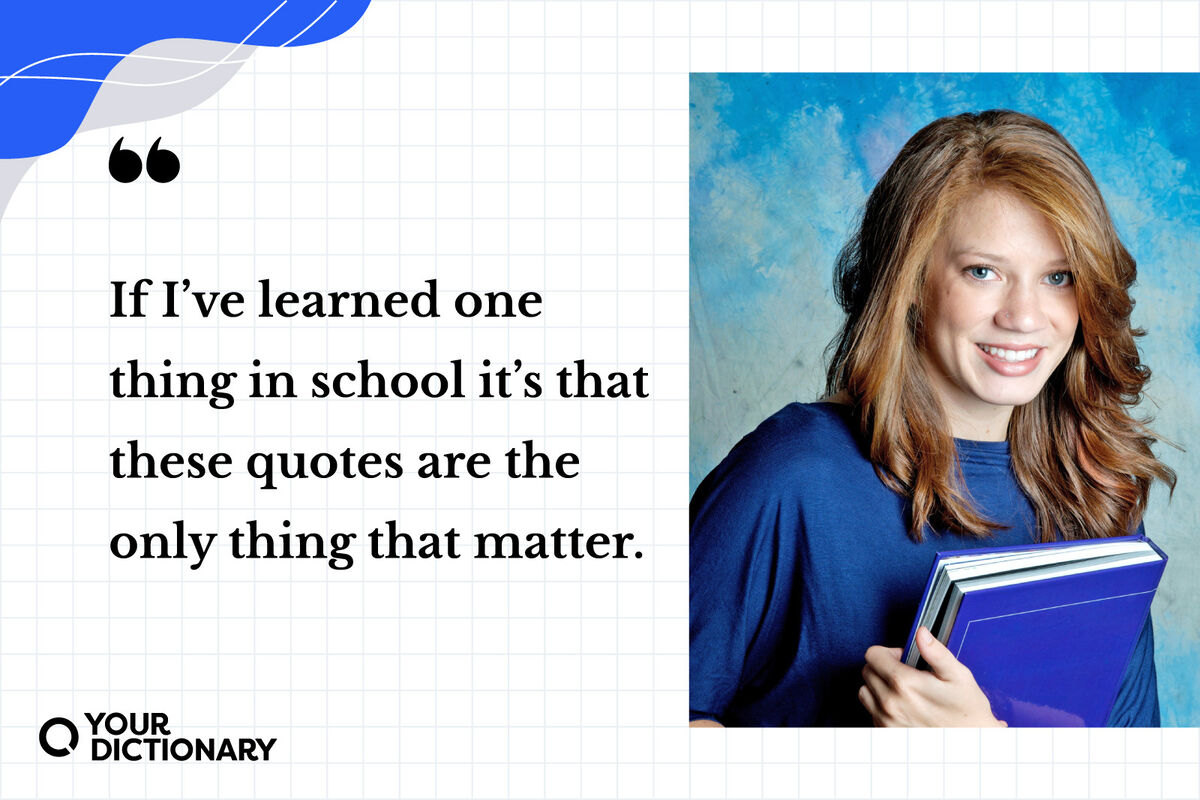 Whether you loved or hated your time at school, your yearbook is a timeless artifact. It's a record of your youthful highs and lows, from the awkward, zitty days of marching band and pop quizzes to getting to dance with your crush at Winter Formal. Your yearbook quote is part of that timelessness, but summarizing your entire high school experience and your personal character in a single quote is understandably hard.
Lowkey Funny Senior Yearbook Quotes
As a senior, you're going through the special process of graduating and potentially leaving your city for someplace new. Your senior yearbook quote is something of a goodbye combined with a "here's something to remember me by" message. Sometimes, a little lowkey humor is the best option.
I'm not actually funny. I'm just really mean, and people think I am joking.
I wanted to be a nice person, but everyone was always so stupid.
One day I will rule the world.
We did our time and now we are free!
I haven't even begun to peak.
Cheaters may never win, but I just graduated!
I'm not here to be average. I'm here to be awesome!
Don't look back since you are not going that way.
So much to do, no desire to do it!
If movies have taught me anything, now the real fun starts.
How can I sum up my amazing time here in such a short space?
LOL Funny Yearbook Quotes
But it doesn't hurt to throw caution to the wind and go straight for the punchline.
Don't just follow your dreams...follow my Twitter/Instagram/other-social-media @yourhandle
Trapped in yearbook factory, send help.
I had to put my grades up for adoption because I couldn't raise them.
Watch out! I may be your future president!
This was nothing like High School Musical.
You will regret not dating me in high school.
Goodbye old boyfriends. Hello new boyfriends!
Donut/pizza/favorite-food is always the answer.
They asked me to write something. So here it is: Something.
I finally learned how to right good!
"Put something inspirational." - Mom
When is this due again?
If you're reading this, future me, put down this book and do something more productive.
If I've learned one thing in school it's that these quotes are the only thing that matter.
Corny, Yet Meaningful Yearbook Quotes
Humor is a great way to go for your yearbook quote, but it's also okay to go for something a little more sincere and meaningful. Comedy can age, but corniness lasts forever.
Don't live someone else's dream, find your own.
Live every day like it is your last.
Thank you, teachers, for never giving up on me.
See you all at the 10-year reunion!
Thanks, Mom and Dad! I couldn't have done it without you!
Wherever you go, go with all your heart.
We do not remember days, we remember moments. 
A big thank you to my friends, family, and teachers for making me who I am today.
I've learned from the bad times and was humbled by the good. Thank you for all of the great life lessons.
You can't move forward without saying goodbye to the past.
Great Yearbook Quotes From Pop Culture
Sometimes, other people have said what you're thinking but in a better way. There's no shame in using existing quotes from writers, musicians, artists, and other public figures you admire.
"You have brains in your head. You have feet in your shoes. You can steer yourself in any direction you choose. You're on your own. And you know what you know. You are the guy who'll decide where to go." - Dr. Seuss
"Don't let the noise of others' opinions drown out your own inner voice. And most important, have the courage to follow your heart and intuition." - Steve Jobs
"All our dreams can come true, if we have the courage to pursue them." - Walt Disney
"If you keep on believing, the dreams that you wish will come true." - Cinderella
"In a way, you've already won in this world because you're the only one who can be you." - Mr. Rogers
"You must expect great things of yourself before you can do them." - Michael Jordan
"Make a difference about something other than yourselves." - Toni Morrison
"Let us make our future now, and let us make our dreams tomorrow's reality." - Malala Yousafzai
"Today I know that there is still work to be done, but along the way, I am achieving my dreams." - Candace Parker
"Once you grow up, you can't come back!" - Peter Pan
"Goodbye everyone! I will remember you all in therapy." - Plankton, SpongeBob SquarePants
"I hope you had the time of your life." - Green Day, "Time of Your Life"
"Life is like a box of chocolates. You never know what you're gonna get." - Forrest Gump
"Every moment is a fresh beginning." - T. S. Eliot
"Alone we can do so little; together we can do so much." - Helen Keller
"We've come too far to give up who we are, so let's raise the bar and our cups to the stars." - Daft Punk, "Get Lucky"
"I am the one thing in life I can control. I am inimitable. I am an original." - Hamilton
"Feeling so good. Looking so bad." - Rihanna, "Rock Star 101"
"But in times of crisis, the wise build bridges, while the foolish build barriers." - King T'Challa, Black Panther
"There's more to life than stupid boys." - Max, Stranger Things
"All we have to decide is what to do with the time that is given to us." - Gandalf, The Lord of the Rings
Simple Yearbook Signing Ideas
Signing a yearbook is a true tradition. You collect messages and signatures from your friends, classmates, crushes, and enemies. Of course, if you have a longer message you want to write, you can go for it, but for those classmates that you're friendly with but don't know well, you can still write a short, sweet message.
Cheers to the mistakes we've made, cheers to the laughs we've shared!
Our senior year has been a blast, only thing is it's gone by way too fast.
Remember me when you are rich and famous!
Live each day as if it were your last.
Be yourself and the world will be a better place.
Stay true to who you are.
Don't let anyone dull your sparkle.
Over and out.
I hope this isn't our last goodbye.
Always stay humble and kind.
Couldn't have made it through English/APUSH/other subject without you!
On to the next chapter!
Write on the spine of the page with "I signed your crack!"