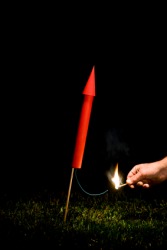 A firework being lit.
noun
The definition of a firework is an explosive device that creates noise, lights and smoke for entertainment.

An example of a firework is what people set off on the Fourth of July.
---
firework
noun
a. A device consisting of a combination of explosives and combustibles, set off to generate colored lights, smoke, and noise for amusement.

b. fireworks A display of such devices.

fireworks

a. An exciting or spectacular display, as of musical virtuosity.

b. A display of rage or fierce contention.
---
firework

---