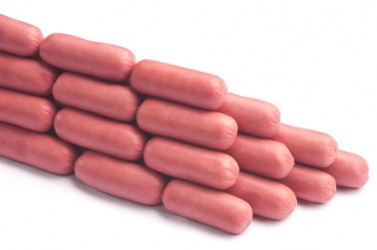 A stack of bangers.
---
banger
noun
Brit., Informal
a sausage
Origin of banger
bang
+ -er: uncertain or unknown; perhaps from resemblance to a thick club used for banging
---
banger
---
banger
Noun
(plural bangers)
(UK): A firework that makes a bang.
(UK, slang) A woman's breast.
(UK, New Zealand, slang) A sausage.

bangers and mash

(slang) An old, worn-out car.
(US, slang) A cylinder in a car.

He drives a little four-banger to work.

(US, slang) A member of a gang, shortened version of the word gangbanger.
---