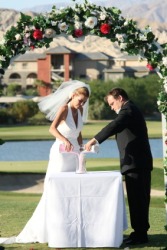 A couple participating in the sand ceremony at their wedding.
noun
The definition of a ceremony is a formal event that occurs as a result of a special occasion or to commemorate something, or a special series of acts performed in an established or set manner according to tradition or custom.

A graduation event where graduates are given their diploma is an example of a graduation ceremony.
A routine for serving tea in a very formal and elaborate manner is an example of a tea ceremony.
---
ceremony
noun
pl.
-·nies
a formal act or set of formal acts established by custom or authority as proper to a special occasion, such as a wedding, religious rite, etc.
the service or function at which such acts are performed
a conventionally courteous or polite act
behavior that follows rigid etiquette or a prescribed form

formality or formalities
empty or meaningless formality, or an act suggesting this
Origin of ceremony
Middle English
cerimonie
from Classical Latin
caerimonia
, awe, reverent rite, ceremony; probably from Etruscan
stand on ceremony
to behave with or insist on formality
---
ceremony
noun
pl.
cer·e·mo·nies
A formal act or set of acts performed as prescribed by ritual or custom: a wedding ceremony; the Japanese tea ceremony.
A conventional social gesture or act of courtesy: the ceremony of shaking hands when introduced.
A formal act without intrinsic purpose; an empty form: ignored the ceremony of asking for comments from other committee members.
Strict observance of formalities or etiquette: The head of state was welcomed with full ceremony.
Origin of ceremony
Middle English
ceremonie
from
Latin
caerimōnia
religious rite
---
ceremony

Noun
(plural ceremonies)
An official gathering to celebrate, commemorate, or otherwise mark some event.
A formal socially established behaviour, often in relation to people of different ranks.
Origin
From Middle English, from Latin caerimonia or caeremonia, later often cerimonia ("sacredness, reverence, a sacred rite").
---