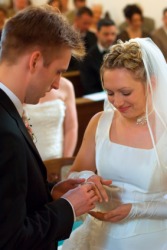 A couple exchange rings at their wedding.
noun
The definition of a wedding is a ceremony in which two people get married.

When you marry your husband, this is an example of a wedding.
---
wedding
the act or ceremony of becoming married; marriage
the marriage ceremony with its attendant festivities

an anniversary of a marriage: a golden wedding
a joining together
Origin of wedding
Middle English from Old English
weddung
from
weddian
: see wed
---
wedding
noun
a. The act of marrying.

b. The ceremony or celebration of a marriage.

The anniversary of a marriage: a silver wedding.
The act or an instance of joining closely: a wedding of ideas.
---
wedding

Verb
Present participle of wed.
Noun
(plural weddings)
Marriage ceremony; ritual officially celebrating the beginning of a marriage.

Her announcement was quite a surprise, coming a month after she published the words "I hate weddings with a passion and a fury I can only partially explain rationally."

Joining of two or more parts.

The wedding of our three companies took place last week.
Origin
From Middle English wedding, weddynge, from Old English weddung ("betrothal, espousal"), equivalent to wed +"Ž -ing. Cognate with Middle Dutch weddinghe.
Verb
(third-person singular simple present weddings, present participle weddinging, simple past and past participle weddinged)
To participate in a wedding.
Usage notes
Usually intended for a humorous effect.
Origin
Conversion of wedding (noun) to verb.
---