silver

sil·ver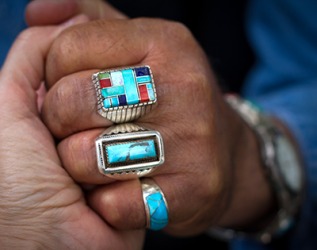 Native Americans are skilled craftsmen producing beautiful and intricate silver jewelry.
adjective
The definition of silver is made with soft, grayish-white metal, or having the color of this metal.

An example of silver used as an adjective is in the phrase "silver earrings," which means a pair of earrings made from this metal.
noun
Silver is a soft, grayish-white metal, or something with the color of this metal, or something made from this metal.

Facts About Silver

Silver's symbol is Ag and it is number 47 on the periodic chart of elements.
Silver is found all over the world, even in seawater. In the United States, there are silver mines in 16 states. Most of the silver comes from Nevada, Arizona, and Idaho.
Silver sulfide appears as tarnish on objects made of silver or plated with silver.
Silver objects have been found by archaeologists in Egypt dating back to 6000 B. C.
Silver is rather easy to extract from its ores, so once it was discovered, it was easy to work with and therefore, was used for many things.
Since it is soft, it can easily be made into thin layers or rolled to make wire.
It is also a very good conductor of electricity and heat. It is even used to generate electricity. It reflects the sun's heat onto tubes which in turn heat water. That heated water turns to steam and powers generators to produce electricity.
It is shiny, which makes it great for jewelry and decorations. Silver is too soft to be used in jewelry without being mixed with other metals, often gold.
Silver is used to make batteries. It is also a major component in photovoltaic cells used to collect the sun's energy.
It can be used to reflect light.
Silver is also used to coat CDs and DVDs.
It is used in the production of electronics, water purification, and solar energy.
Silver can replace harsh chemicals in water purification.
Silver can prevent the formation of algae and destroy bacteria, which may have future medical applications.
Sterling silver, which has been around since the 14th century, is an alloy of copper and silver.

An example of silver is the metal used to coat the back of a mirror.
An example of silver is the color of a dime.
An example of silver is a pair of earrings.
verb
Silver is defined as to become like the soft, white, often malleable substance or to coat or cover with it.

An example of silver is to pour this element over a statue.
---
silver
a soft, white, metallic chemical element that is extremely ductile and malleable, an excellent reflector of light, and the best metallic conductor of heat and electricity: it is a precious metal and is used in the manufacture of coins, jewelry, alloys, etc.: symbol, Ag; at. no. 47

silver coin
money; riches; wealth

something, esp. tableware, made of or plated with silver; silverware
the lustrous, grayish-white color of silver
something having this color, as the material used in coating the back of a mirror
a salt of silver as used in photography, etc.
silver medal
Origin of silver
Middle English
selver
from Old English
seolfer
, akin to German
silber
, Gothic
silubr
, probably a loanword from a non-IE source
made of, containing, or plated with silver: silver thread
of, based on, or having to do with silver: the silver standard
of or advocating the adoption of silver as a standard of currency
having the color or luster of silver; silvery
having a silvery tone or sound
eloquent: a silver tongue
marking or celebrating the 25th anniversary
to cover or coat with silver or something like silver
to make silvery in color: hair silvered with age
to become silvery in color
---
silver
noun
Ag A lustrous white, ductile, malleable metallic element, occurring both uncombined and in ores such as argentite, having the highest thermal and electrical conductivity of the metals. It is highly valued for jewelry, tableware, and other ornamental use and is widely used in coinage, photography, dental and soldering alloys, electrical contacts, and printed circuits. Atomic number 47; atomic weight 107.868; melting point 961.78°C; boiling point 2,162°C; specific gravity 10.50 (20°C); valence 1, 2. See Periodic Table.
This metallic element as a commodity or medium of exchange.
Coins made of this metallic element.
A medal made of silver awarded to one placing second in a competition, as in the Olympics.

a. Domestic articles, such as tableware, made of or plated with silver.

b. Tableware, especially eating and serving utensils, made of steel or another metal.

A lustrous medium gray.
A silver salt, especially silver nitrate, used to sensitize paper.
adjective
Made of or containing silver: a silver bowl; silver ore.
Resembling silver, especially in having a lustrous shine; silvery.
Of a lustrous medium gray: silver hair.
Having a soft, clear, resonant sound.
Eloquent; persuasive: a silver voice.
Favoring the adoption of silver as a standard of currency: the silver plank of the 1896 Democratic platform.
Of or constituting a 25th anniversary.
verb
sil·vered, sil·ver·ing, sil·vers
verb
transitive
To cover, plate, or adorn with silver or a similar lustrous substance.
To give a silver color to.
To coat (photographic paper) with a film of silver nitrate or other silver salt.
verb
intransitive
To become silvery.
Origin of silver
Middle English
from
Old English
siolfor, seolfor
probably ultimately from
Akkadian
&slowdot;arpu
refined silver
verbal adj. of
&slowdot;arāpu
to smelt, refine
&slowdot;rp
---
silver

---
silver - Investment & Finance Definition
A white-colored, soft, shiny metal typically used in jewelry making as well as in industrial processes, such as photography and electronics manufacturing. Silver also is an investment vehicle and silver futures trade on futures exchanges. In the United States, the primary futures exchange for silver is the New York Mercantile Exchange. One contract equals 5,000 troy ounces and prices are quoted in cents per troy ounce. For example, 526.5 cents per troy ounce translates into a cost of $5.26 per ounce, thereby making one contract wroth $26,300. Silver futures are traded through open outcry on NYMEX. When the regular trading session isn't open, the futures also can be traded on NYMEX's electronic trading system, ACCESS.
Silver has had an important role in the U.S.'s monetary system. In 1792, Congress based the U.S. currency on the silver dollar and fixed, or set, silver's value to gold. Silver was used to make coins until 1965.
Silver is available in different levels of purity. Fine silver is 99.9 percent silver; sterling silver is 92.5 percent silver, with other metals, typically copper, making up the difference, and coin silver is 90 percent silver with 10 percent copper. Nickel silver, despite its name, is an alloy of 65 percent copper with nickel and zinc, and has no silver at all. Mexico, the United States, and Peru are the primary producers of silver.
---