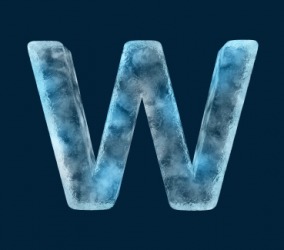 The letter W.
adjective
The definition of w is like or shaped like the 23rd letter of the alphabet.

An example of w used as an adjective is in the phrase "w pancakes," which means pancakes that are shaped like a "w."
noun
W is the 23rd letter of the English alphabet, of the type or symbol of this letter.

An example of w is the first letter in the word "water."
---
w
or W
noun
pl.
the twenty-third letter of the English alphabet: its sound was represented in Anglo-Saxon manuscripts by uu or u until about 900, then by ? (wen) borrowed from the runic alphabet; in the 11th cent. a ligatured VV or vv was introduced by Norman scribes to replace the wen
any of the speech sounds that this letter represents, as, in English, the (w) of will
a type or impression for w or W
the twenty-third in a sequence or group
an object shaped like
of w or W
twenty-third in a sequence or group
shaped like
waist
watt(s)
week(s)
weight
west
western
wide
width
wife
win(s)
with

Physics

work
W
Wales
Washington
watt(s)
Wednesday
Welsh
West
west
western
wide
win(s)

Physics

work
W
---
w
or W
noun
pl.
w's,
or
W's
also
ws
or
Ws
The 23rd letter of the modern English alphabet.
Any of the speech sounds represented by the letter w.
The 23rd in a series.
Something shaped like the letter W.
Hollywood sign, Los Angeles, California
Originally reading "Hollywoodland," the Hollywood sign was erected in 1923 at the cost of $21,000 as an advertisement for a real estate development.
abbreviation
weight
width
Physics work
W
Origin of W
From
German
Wolfram
; see
wolfram
.
W
abbreviation
watt
Wednesday
week

a. west

b. western

Sports win
Sports winger
w.
abbreviation
wife
also w/ with
---
w

Letter
(lower case, upper case W)
Abbreviations
(sports) The statistic for the number of wins by a team or player limited by some criteria (e.g. this season, at home, on turf)
(cricket) wickets
(neologism) Nickname for George W. Bush
(US) The initial letter of the call sign of radio stations east of the Mississippi (see also K)
Letter
(upper case, lower case w)
Usage notes
This may be repeated to indicate the deletion of multiple words.
Abbreviations
With (short-hand abbreviation).
---
w - Computer Definition

Symbol for watt. See watt.
w
---
---