coin

coin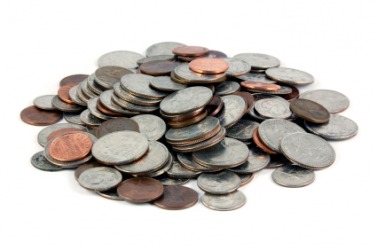 A pile of coins.
adjective
The definition of coin is requiring round pieces of money to use.

An example of coin used as an adjective is in the phrase "a coin washing machine," which means a washing machine that requires payment in coins to use it.
noun
A coin is defined as a round piece of money of a certain value.

An example of a coin is a dime.
verb
Coin means to make metal money, or to come up with something new.

An example of coin is to create quarters.
An example of coin is to create a new word.
---
coin
Archaic

quoin

a usually round piece of metal with a distinctive stamp, and of a fixed value and weight, issued by a government as money
such pieces collectively

Slang

money
Origin of coin
Middle English from Old French
coin, coigne,
a wedge, stamp, corner from Classical Latin
cuneus,
a wedge from Indo-European base an unverified form
k?-
, pointed from source Old Irish
cuil,
Classical Latin
culex,
gnat, Avestan
s?-k?,
needle
requiring, or containing machines requiring, one or more coins for operation: a coin laundry
to make (coins) by stamping metal
to make (metal) into coins

to make up; devise; invent (a new word or phrase)
to make coins

Brit.

to make counterfeit money
coin money
Informal
to earn or accumulate wealth rapidly
pay a person back in the same coin
to treat a person in the same way the person treated oneself
---
coin
noun
A small piece of metal, usually flat and circular, authorized by a government for use as money.
Metal money considered as a whole.
A flat circular piece or object felt to resemble metal money: a pizza topped with coins of pepperoni.
A mode of expression considered standard: Two-word verbs are valid linguistic coin in the 20th century.
Variant of quoin
transitive verb
coined, coin·ing, coins
To make (pieces of money) from metal; mint or strike: coined silver dollars.
To make pieces of money from (metal): coin gold.
To devise (a new word or phrase).
adjective
Requiring one or more pieces of metal money for operation: a coin washing machine.
Origin of coin
Middle English
from
Old French
die for stamping coins, wedge
from
Latin
cuneus
wedge
Related Forms:
---
coin

---
coin - Investment & Finance Definition
A metal piece that is used as legal tender and is inscribed to show that it is backed by the government that issued it.
---