ritual

rit·u·al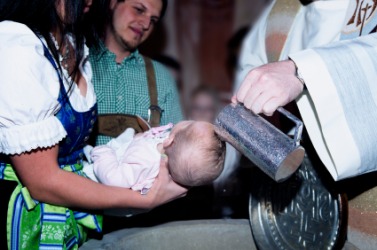 Baptism is one example of a ritual.
adjective
Ritual is defined as something that is characteristic of a rite, practice or observation, particularly of a religion.

An example of ritual is the recitation of traditional vows in a Catholic wedding ceremony.
noun
The definition of a ritual is a rite, practice or observance, particularly in a religion.

An example of ritual is the Sacrament of Baptism for Catholics.
---
ritual
Origin of ritual
Classical Latin
ritualis
of, having the nature of, or done as a rite or rites:
ritual dances
a set form or system of rites, religious or otherwise
the observance of set forms or rites, as in public worship
a book containing rites or ceremonial forms
any practice, action, or procedure performed or observed regularly, consistently, etc.
ritual acts or procedures collectively
---
ritual
noun
a. A ceremony in which the actions and wording follow a prescribed form and order.

b. The body of ceremonies or rites used in a place of worship or by an organization: according to Catholic ritual.

A book of rites or ceremonial forms.
A set of actions that are conducted routinely in the same manner: My household chores have become a morning ritual.
Zoology A set of actions that an animal performs in a fixed sequence, often as a means of communication: the greeting ritual in baboons.
adjective
Associated with or performed according to a rite or ritual: a priest's ritual garments; a ritual sacrifice.
Being part of an established routine: a ritual glass of milk before bed.
Origin of ritual
From
Latin
rītuālis
of rites
from
rītus
rite
; see
rite
.
Related Forms:
---
ritual

Adjective
(comparative more ritual, superlative most ritual)
Related to a rite or repeated set of actions.

They performed the ritual lighting of the candles.
Noun
(plural rituals)
rite; a repeated set of actions

They carried out the ritual carefully.
Origin
From Latin adjective rÄ«tuālis, from noun rÄ«tuum ("rite"), + adjective suffix -ālis.
---