salutation

sal·u·ta·tion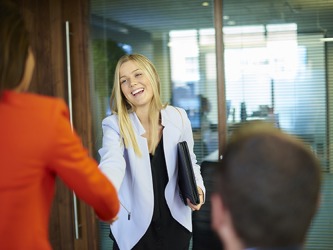 Kathie made sure to aknowledge the interviewers with a formal salutation when she entered the room.
noun
The definition of a salutation is a greeting.

An example of a salutation is when you write "Dear Dean.." at the top of a letter.
An example of a salutation is when you say a formal hello to someone.
---
salutation
the act of greeting, addressing, or welcoming by gestures or words
a form of words serving as a greeting or, esp., as the opening of a letter, as "Dear Sir"
Origin of salutation
Middle English
salutacion
from Middle French from Classical Latin
salutatio
from
salutatus
, past participle of
salutare
: see salute
---
salutation
noun
a. A polite expression of greeting or goodwill.

b. salutations Greetings indicating respect and affection; regards.

A gesture of greeting, such as a bow or kiss.
A word or phrase of greeting used to begin a letter or message.
Related Forms:
sal′u·ta′tion·al

adjective
---
salutation

Noun
(plural salutations)
The act of greeting.
The title in your name, such as Mr, Mrs, Ms., Dr. or Rev..
---