scholarship
schol·ar·ship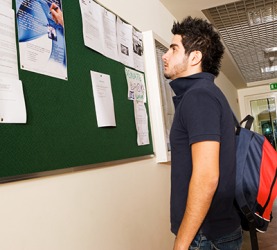 Samir was interested in the poster on the message board with information offering a college scholarship.
noun
Scholarship is knowledge resulting from study, or is a gift of money to pay for academic education.

An example of scholarship is when you study for a master's degree.
An example of a scholarship is when someone pays your college tuition for you.
---
scholarship
the quality of knowledge and learning shown by a student; standard of academic work

the systematized knowledge of a learned person, exhibiting accuracy, critical ability, and thoroughness; erudition
the knowledge attained by scholars, collectively

a specific gift of money or other aid, as by a foundation, to help a student pay for instruction
---
scholarship
noun
The methods, discipline, and attainments of a scholar or scholars.
Knowledge resulting from study and research in a particular field. See Synonyms at knowledge.
A grant of financial aid awarded to a student, as for the purpose of attending a college.
---
scholarship

Noun
(plural scholarships)
A grant-in-aid to a student.
The activity, methods or attainments of a scholar.
(uncountable) The sum of knowledge accrued by scholars; the realm of refined learning.
(Australia, dated) The first year of high school, often accompanied by exams that needed to be passed before advancement to the higher grades.
---