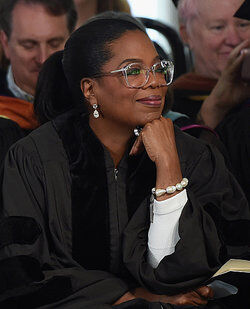 Oprah Winfrey is one of the most recognizable and inspirational figures in daytime television. A media executive, actress, talk show host, television producer, and philanthropist, she's been unbelievably successful and popular. And she's been working in broadcasting since she was 17, while still at school.
Oprah Winfrey's Education
Oprah Winfrey was a clever and imaginative child who developed a love of reading at an early age. Oprah moved around a lot as a young child, never staying in one school long, but one elementary school she was known to attend was Wharton Elementary School in Nashville. Later, when living in Milwaukee with her mother, Oprah earned high marks at Lincoln High School, which led to her being transferred to Nicolet High School in the rich suburbs.
After a tumultuous and troubling childhood with her mother, Winfrey ran away from home at the age of 13. She was then sent to live with her father Vernon in Nashville again (although Vernon Winfrey may not be Oprah's biological father).
Her biological father or not, Vernon Winfrey gave Oprah the structure she needed and placed a high value on education, requiring her to read a book each week and write a book report on it. Oprah attended East Nashville High School when living with her father, where she found she enjoyed public speaking. Oprah was an active student at Nashville East High School, where she was an honors student. She was part of the drama and debate clubs, and she was a member of the student council and a member of the school's speech team.
After graduating from high school in 1971, Oprah attended the HBCU Tennessee State University on a full scholarship she had won in a public-speaking competition. She majored in Speech Communications and Performing Arts. Oprah left college a credit short of graduating in 1975 for her job, but she later completed the course and received her degree in 1987.
Among many of her inspirational sayings, Oprah Winfrey has famously said, "Education is the key to unlocking the world, a passport to freedom."
How Did Oprah Winfrey Get Started?
In her senior year at high school, at the age of 17, Oprah got a job reading the news part-time for WVOL, a local radio station in Nashville.
While still at college Oprah became a news co-anchor at Nashville's WLAC-TV station. At 19, she was the youngest news anchor and also the first black female news anchor at the station.
Oprah wanted to find work in a larger market outside of Nashville and was offered a job at WJZ-TV in Baltimore, Maryland in 1976. She was soon removed as a news anchor but then offered the chance to be a talk show host on a morning show called People Are Talking. After the first show, Oprah knew this was what she wanted to do.
If you're looking to follow in Oprah Winfrey's successful footsteps, the key is apparently to start early. If you can get a job in your field while still in high school, that's the ticket. If not, education is paramount.