adjective
The definition of brass is made of or coated with a yellowish metal basically made of copper and zinc.

An example of brass used as an adjective is in the phrase "brass ring," which means a ring made out of primarily copper and zinc.
noun
Brass is defined as a soft, yellowish metal that is basically made of copper and zinc, or a musical instrument which is made of brass and has uses a mouthpiece and lip tension to make the sound, or is slang for the highest-ranking officers in the military.

Facts About Brass Metal

The features of brass make it an excellent medal to be used in special instances such as zippers (low friction), musical instruments (easy formation), fixtures and art (moldability) and exteriors (resists tarnishing).
The low melting point of brass, and its antimagnetic properties, make it easy to separate from regular scrap metals.
Brass is harder, stronger and resilient to corrosion because of the addition of zinc and coppyer when the brass is manufactured.
Brass is resistent to sea and salt water due to the alloys which are added to it during its manufacturing.

An example of brass is the metal used to for fittings in the piping systems that transfer explosive gases.
An example of a brass is a trumpet.
An example of brass are the Captains in the U.S. Navy.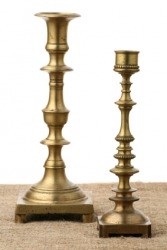 A pair of brass candlesticks.
---
brass
noun
pl.
brasses
a yellowish metal that is essentially an alloy of copper and zinc
things made of brass, as fittings, ornaments, or implements
the brass instruments of an orchestra, band, etc., or the players of these instruments
a brass memorial tablet

Informal

bold impudence; effrontery
☆

Slang

military officers of high rank
any high officials, executives, etc.

Machinery

the lining or bushing of a bearing
Origin of brass
Middle English
bras
; from Old English
bræs,
brass, bronze
adjective
made of or containing brass
designating a wind instrument, as a horn, trombone, trumpet, or tuba, made of a coiled metal tube and having a usually cup-shaped mouthpiece
composed of or for such an instrument or instruments: a brass choir
transitive verb
to coat with brass
---
brass
noun
a. A yellowish alloy of copper and zinc, sometimes including small amounts of other metals, but usually 67 percent copper and 33 percent zinc.

b. Ornaments, objects, or utensils made of this alloy.

often brasses Music

a. The section of a band or an orchestra composed of brass instruments.

b. Brass instruments or their players considered as a group.

A memorial plaque or tablet made of brass, especially one on which an effigy is incised.
A bushing or similar lining for a bearing, made from a copper alloy.
Informal Bold self-assurance; effrontery.
Slang High-ranking military officers or other high officials.
Chiefly British Money.
Origin of brass
Middle English
bras
, from Old English
bræs
.
Related Forms:
---
brass
See also art; metals; ornamentation.
chalcologue
a student of brasses.
chalcomancy
a technique of divination by examining vessels of brass.
chalcotript
one who copies monumental brasses by taking rubbings.
---
brass
---