noun
Dough is defined as a mixture of dry flours or grains, a liquid and leavening that is then kneaded and cooked to form a baked food.

An example of dough is the wheat flour mixture used to make bread.

The definition of dough is slang for money.

An example of dough is the cash in your pocket.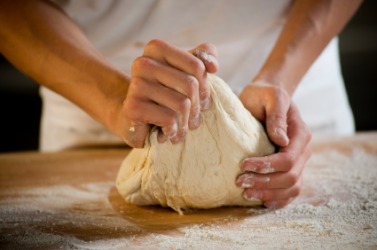 A baker kneads a lump of dough.
---
dough definition by Webster's New World
noun
a mixture of flour, liquid, leavening, and other ingredients, worked into a soft, thick mass for baking into bread, pastry, etc.
any pasty mass like this
☆

Slang

money
Origin: Middle English ; from Old English dag, akin to Gothic daigs, German teig ; from Indo-European base an unverified form dheiĝh-, to knead, form from source Classical Greek teichos, wall, Classical Latin fingere, to form
Webster's New World College Dictionary Copyright © 2010 by Wiley Publishing, Inc., Cleveland, Ohio. Used by arrangement with John Wiley & Sons, Inc.
---
dough definition by American Heritage Dictionary
noun
a. A soft, thick mixture of dry ingredients, such as flour or meal, and liquid, such as water, that is kneaded, shaped, and baked, especially as bread or pastry.

b. A pasty mass similar to this mixture.

Slang Money.
Origin: Middle English dogh, from Old English dāg; see dheigh- in Indo-European roots.