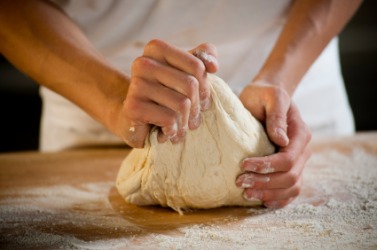 A baker kneads a lump of dough.
noun
Dough is defined as a mixture of dry flours or grains, a liquid and leavening that is then kneaded and cooked to form a baked food.

An example of dough is the wheat flour mixture used to make bread.

The definition of dough is slang for money.

An example of dough is the cash in your pocket.
---
dough
a mixture of flour, liquid, leavening, and other ingredients, worked into a soft, thick mass for baking into bread, pastry, etc.
any pasty mass like this

Slang

money
Origin of dough
Middle English from Old English
dag
, akin to Gothic
daigs
, German
teig
from Indo-European base an unverified form
dhei?h-
, to knead, form from source Classical Greek
teichos
, wall, Classical Latin
fingere
, to form
---
dough
noun
a. A soft, thick mixture of dry ingredients, such as flour or meal, and liquid, such as water, that is kneaded, shaped, and baked, especially as bread or pastry.

b. A pasty mass similar to this mixture.

Slang Money.
Origin of dough
Middle English
dogh
from
Old English
dāg
; see
dheigh-
in Indo-European roots.
---
dough

Noun
(usually uncountable, plural doughs)
A thick, malleable substance made by mixing flour with other ingredients such as water, eggs, and/or butter, that is made into a particular form and then baked.

Pizza dough is very stretchy.

(slang) Money.

His mortgage payments left him short on dough.
Verb
(third-person singular simple present doughs, present participle doughing, simple past and past participle doughed)
To make into dough.

The flour was doughed with a suitable quantity of water.
Origin
From Middle English dow, dogh, dagh, from Old English dāh, dāg, from Proto-Germanic *daigaz ("dough"), from Proto-Indo-European *dʰeygʰ- ("to knead, form, mold"). Cognate with Scots daich, dauch, doach ("dough"), West Frisian daai ("dough"), Dutch deeg ("dough"), Low German Deeg ("dough"), German Teig ("dough"), Danish dej ("dough"), Swedish deg ("dough"), Icelandic deig ("dough").
---