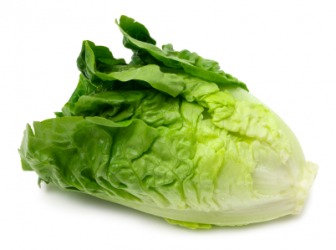 A head of Romaine lettuce.
noun
The definition of lettuce is a plant in the genus Lactuca with crispy leaves.

An example of lettuce is the primary ingredient in salads.
---
lettuce
any of a genus (Lactuca) of hardy, annual composite plants; specif., a plant (L. sativa) grown for its crisp, succulent, green leaves
the leaves of such a plant, much used in salads

Slang

paper money
Origin of lettuce
Middle English
letuse
from Old French
laituës
, plural of
laitue
from Classical Latin
lactuca
from
lac
(gen.
lactis
), milk (see galactic): from its milky juice
---
lettuce
noun
a. Any of various plants of the genus Lactuca of the composite family, especially L. sativa, cultivated for its edible leaves.

b. The leaves of L. sativa, used especially in salads.

Slang Paper money.
Origin of lettuce
Middle English
lettuse
from
Old French
laitues
pl. of
laitue
from
Latin
lactūca
from
lac
lact-
milk (from its milky juice)
; see
melg-
in Indo-European roots.
---
lettuce

Noun
(countable and uncountable, plural lettuces)
An edible plant, Lactuca sativa and its close relatives, having a head of green and/or purple leaves.
(uncountable) The leaves of the lettuce plant, eaten as a vegetable; as a dish often mixed with other ingredients, dressing etc.

I'll have a ham sandwich with lettuce and tomato.

(uncountable, US, slang) United States paper currency; dollars.
---