noun
The definition of cabbage is a vegetable with large light green or purple leaves formed into a tight head and a short thick stem.

An example of cabbage is the main ingredient in coleslaw.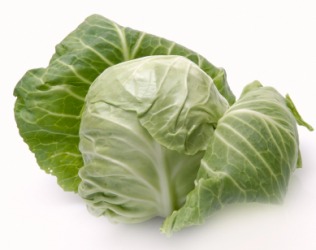 A head of green cabbage.
---
cabbage definition by Webster's New World
noun
a common vegetable (Brassica oleracea var. capitata) of the crucifer family, with thick leaves formed into a round, compact head on a short, thick stalk: cultivated as early as 2000
an edible bud at the end of the branch on some palm trees

Slang

paper money
Origin: Middle English and amp; Old French caboche, earlier caboce ; from uncertain or unknown; perhaps
transitive verb
,
intransitive verb
cabbaged, cabbaging
Origin: probably ; from French cabasser, to put into a basket, steal ; from cabas, basket ; from Vulgar Latin an unverified form capacium, reed basket
noun
Archaic
cloth snippets appropriated by a tailor when cutting out clothes
Origin: prob. < the v.
Webster's New World College Dictionary Copyright © 2010 by Wiley Publishing, Inc., Cleveland, Ohio. Used by arrangement with John Wiley & Sons, Inc.
---
cabbage definition by American Heritage Dictionary
noun
Any of several forms of a European vegetable (Brassica oleracea var. capitata) of the mustard family, having a globose head consisting of a short stem and tightly overlapping green to purplish leaves.
Any of several similar or related plants, such as Chinese cabbage.
The terminal bud of several species of palm, eaten as a vegetable.
Slang Money, especially in the form of bills.
Informal Sweetheart; dear. Used as a term of endearment.
Origin: Middle English caboche, from Old North French, head, possibly from alteration of Latin caput; see Capital 1.
Related Forms: