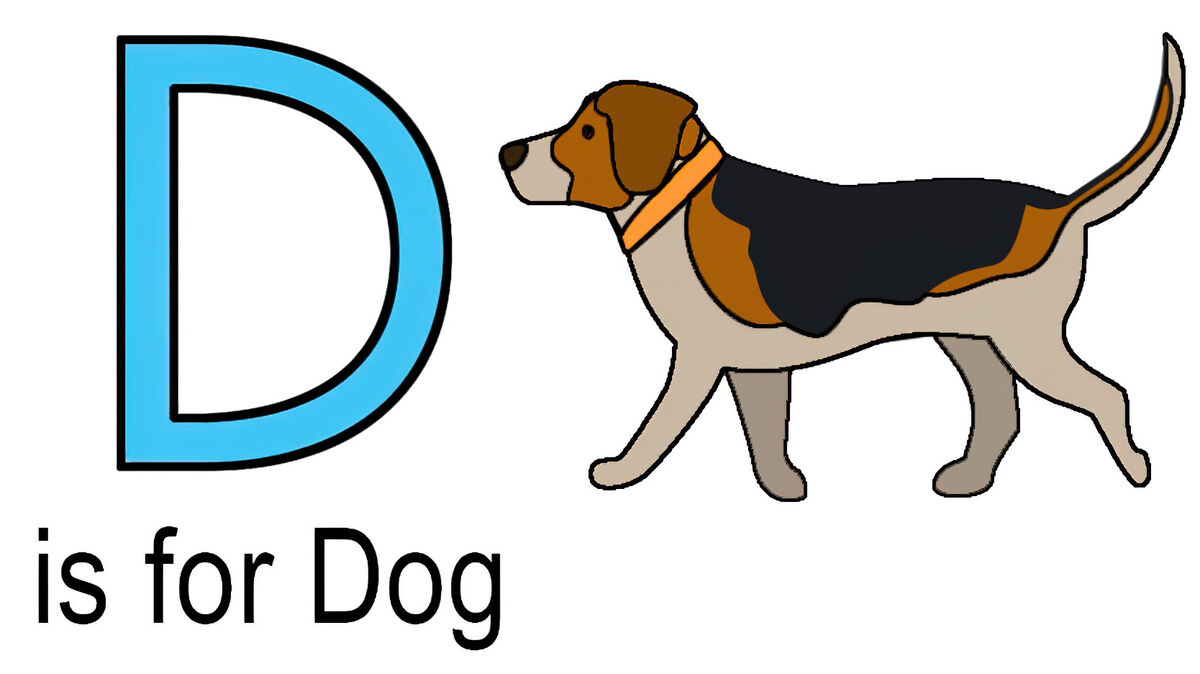 How do you like to compile your vocabulary lists for students? There are many ways to approach this all-important topic. If you want to go letter by letter, we've prepared an extensive list of words, grade by grade. Check out over 50 words that start with D for kids, as well as several interactive letter D activities.
Preschool D Vocabulary List
Do you remember the sense of accomplishment you felt when you spelled your first word? It was probably something like dog. It's a special moment in every student's life. Set your little learners up for success with this list of D words for kids.
Trace the Letter D Printable
Learning the alphabet in preschool and kindergarten serves as an important foundation for all the learning to come in later grades. It starts with learning how to print the letters in the first place, so we've provided a tracing worksheet below for printing the letter D. Download and print a copy for all your little learners!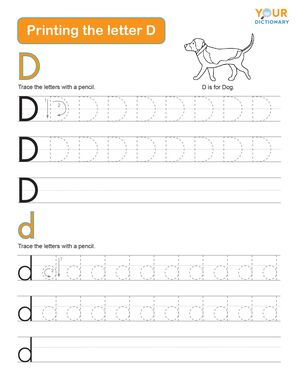 Kindergarten D Vocabulary List
Once kindergartners have mastered the Dolch sight words, they can move on to longer D words. These words include consonant blends that help students with basic phonics skills. Incorporate these short words that start with D into your everyday vocabulary lessons.
Matching D Words Printable
Kindergartners who need a bit more practice with D words benefit from matching images to words. Take a look at this printable worksheet with six vocabulary words that start with D for kids. You can assign it as classwork, small group practice or homework.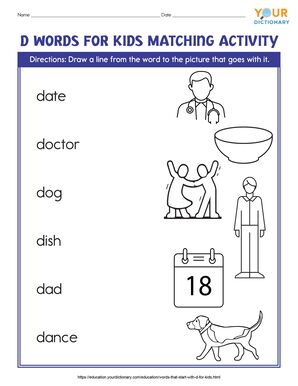 Early Elementary: D Vocabulary List
First, second and third graders can advance from those three-letter words to something more substantial. It'll be fun to share new sounds like the "nk" sound in words like drink. Here's a healthy start to your early elementary D words for kids.

Create Index Card Sentences
Work on basic sentence structure with your students.
On 10 index cards, write basic subjects (using your vocabulary words), such as "The dragon," "David," or "The drink."
On another 10 cards, write sentence predicates in a different color ink. You might write "eats chocolate," "built a treehouse," or "tastes like watermelon."
Ask students to pick index cards from the "subject" pile and the "predicate" pile.
If they can read, ask them to read the sentence aloud. If they can't read yet, you can read the sentence aloud and wait for the chuckles to unfold.
Design Delightful Compliments
Practice parts of speech and focus on the letter D at the same time. Have students come up with a list of adjectives that start with D for more inspiration! They can write complimentary cards to each other during a focus on kindness, or craft messages to their parents for Mother's and Father's Day. You can use these positive words that start with D for more inspiration.

Upper Elementary D Vocabulary List
Vocabulary words start to balloon in the fourth, fifth and sixth grades while reading and comprehension skills continue to blossom. Take this time to introduce the complexities of these D words for kids.
Use your vocabulary words to develop topics your students can write about. Say you choose the word disappointed. Maybe they'll write about a disappointed puppy. Or, how about dormant? How does a dormant garden sound? You can open up the floor to any variety of poetry. Perhaps you'll require a certain rhyming pattern or allow free verse.
Once students have experience with writing poetry, they can identify alliteration in other written works. Use these alliteration examples for kids to teach the value of repetition and sound devices in literature and poetry. Incorporate the repeated D sound to focus on the letter of the week.

Deliberate Determination Gets the Deed Done
With deliberate determination, you can help your students embrace a lifelong love affair with words. Let the learning begin as you not only introduce new words to your students but also allow them to find new ways to implement them into their everyday lives.
When you're ready for more D words to use with students, head over to WordFinder's list of words that start with the letter D. Simply fill out the advanced search tool to find words with the correct letters and length! If you're enjoying these letter-by-letter vocabulary lessons, keep going through the alphabet with words that start with E for kids.