testament

tes·ta·ment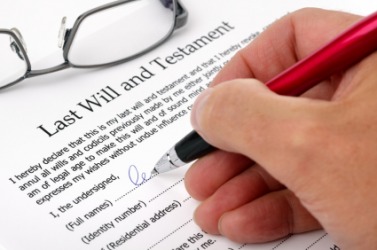 Your will is an example of a testament.
noun
The definition of a testament is a statement of fact or worth, or one of the two major divisions of the Christian Bible.

An example of testament is a document stating what a person wishes to leave to his/her heirs in the event of his/her passing.
An example of testament is the New Testament.
---
testament
Obs.

a covenant, esp. one between God and man
[T-]

either of the two parts of the Christian Bible, the Old Testament and the New Testament

Informal

a copy of the New Testament

a statement, act, etc. testifying to the fact, validity, or worth of something; testimonial: a testament to liberty
an affirmation of beliefs or convictions; profession: a freethinker's testament

Law

a will: now rare except in the phrase

last will and testament
Origin of testament
Old French from Ecclesiastical Late Latin
testamentum,
Testament (in New Testament , translated, translation of Classical Greek
diath?k?,
covenant) from L, a will from
testari,
to testify, make a will from
testis,
a witness: see testify
---
testament
noun
Something that serves as tangible proof or evidence: The spacious plan of the city is a testament to the foresight of its founders.
A statement of belief; a credo: my political testament.
Law A usually formal, written directive providing for the disposition of one's property after death; a will.
Testament Bible Either of the two main divisions of the Bible.
Archaic A covenant between humans and God.
Origin of testament
Middle English
a will
from
Latin
testāmentum
from
testārī
to make a will
from
testis
witness
; see
trei-
in Indo-European roots.
Related Forms:
tes′ta·men′tar·y

adjective
---
testament

---
testament - Legal Definition
n
A document disposing of a person's personal property upon his or her death, distinct from a will, which is a devise of real estate.
---