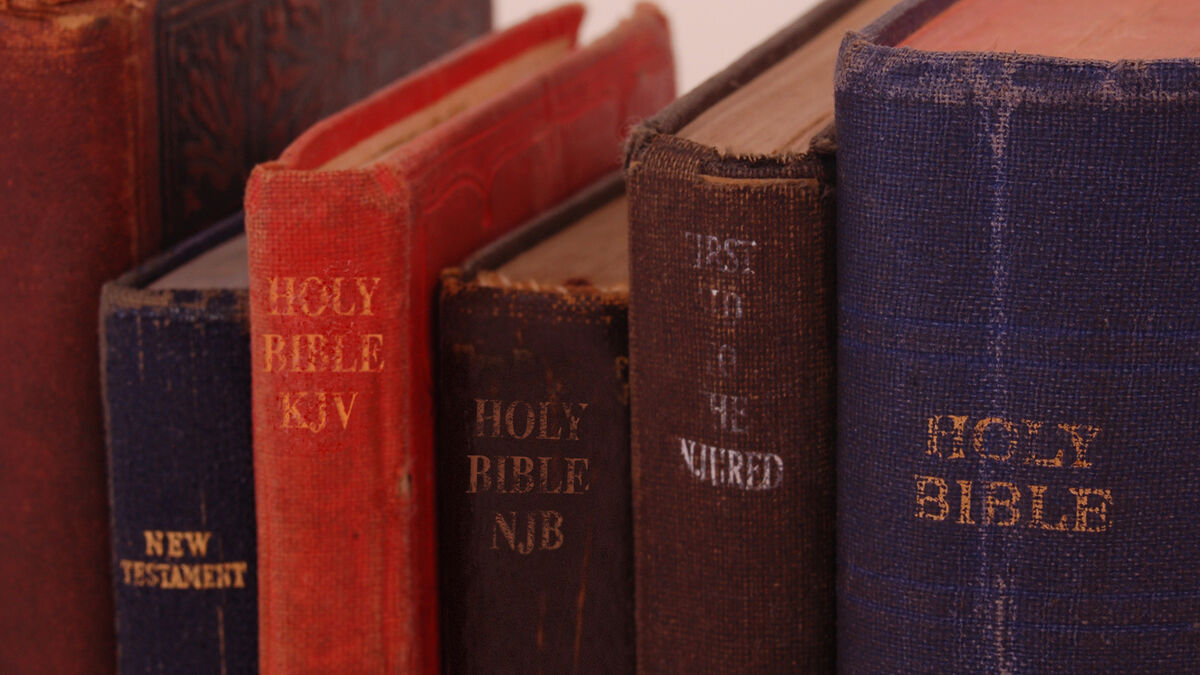 Using Bible abbreviations for different versions of the Bible and books from the Bible helps people communicate more efficiently about the word of God. While books like the SBL (Society of Biblical Literature) Handbook of Style are great for general Bible abbreviations, different groups use a few different abbreviations for the same versions and books.
Abbreviations for Bible Versions
Ancient Versions of the Bible
These ancient versions of the Bible represent what many consider the "original" Bibles.
GNT: The Greek New Testament (Greek)
HB: Hebrew Bible (Hebrew)
LXX: Septuagint (Greek)
MT: Masoretic Text (Hebrew)
Vulg. - The Vulgate (Latin)
English Translation Versions of the Bible
Modern English versions of the Bible are structured in different ways to make it easier for any person to understand the text and the message. From children's Bibles to Bibles using modern English words, new translations of the Bible come out every year.
AAT: An American Translation
AMP: Amplified Bible
ASV: American Standard Version
BV: Berkeley Version in Modern English
CEV: Contemporary English Version
ESV: English Standard Version
GNB: Good News Bible
HCSB: Holman Christian Standard Bible
JB: Jerusalem Bible
KJ21: 21st Century King James Version
KJV: King James Version
KNOX: Knox Bible
MNT: Moffatt's New Translation
MSG: The Message Bible
NABR: New American Bible, Revised Edition
NASB: New American Standard Bible
NEB: New English Bible
NET: New English Translation
NETS: New English Translation of the Septuagint
NIV: New International Version
NJB: New Jerusalem Bible
NKJV: New King James Version
NLT: New Living Translation
NRSV: New Revised Standard Version
NTLP: New Testament in the Language of the People
NTME: New Testament in Modern English
NTMS: New Testament in Modern Speech
REB: Revised English Bible
RSV: Revised Standard Version
TCNT: Twentieth Century New Testament
TLB: The Living Bible
TNIV: Today's New International Version
WET: Wuest Expanded Translation of the New Testament
Abbreviations for Books in the Bible
Each book in the Bible has a different name, and some are rather long. Biblical book name abbreviations make it easier to cite and share quotes from the Bible. Generally speaking, the stories in OT books are much more varied across religions than NT books.
Old Testament Book Abbreviations
Most Bible book abbreviations consist of three or four letters. Some book names don't have standard abbreviations because they are short like Joel, Amos, Ruth, Jonah, Ezra, and Job.
These are the common abbreviations for OT books as used by Protestants.
Cant: Canticles
Chr: Chronicles
Dan: Daniel
Deut: Deuteronomy
Eccl: Ecclesiastes
Esth: Esther
Exod: Exodus
Ezek: Ezekiel
Gen: Genesis
Hab: Habakkuk
Hag: Haggai
Hos: Hosea
Isa: Isaiah
Jer: Jeremiah
Josh: Joshua
Judg: Judges
Kgdms: Kingdoms
Kgs: Kings
Lam: Lamentations
Lev: Leviticus
Mal: Malachi
Mic: Micah
Nah: Nahum
Neh: Nehemiah
Num: Numbers
Obad: Obadiah
Prov: Proverbs
Ps: Psalm
Pss: Psalms
Sam: Samuel
Song: Song of Songs
Qoh: Qoheleth
Zech: Zechariah
Zeph: Zephaniah
Apocrypha Book Abbreviations
In the Eastern Orthodox tradition and with Roman Catholicism, there are books in the OT, known as Apocrypha by Protestants, that don't appear in Protestant Bible version. These could be considered Catholic Bible abbreviations.
Add Dan: Additions to Daniel
Add Esth: Additions to Esther
Bar: Baruch
Bel: Bel and the Dragon
Esd: Esdras
Ep Jer: Epistle of Jeremiah
Jdt: Judith
Macc: Maccabees
Pr Azar: Prayer of Azariah
Pr Man: Prayer of Manasseh
Sg Three: Song of the Three Young Men
Sir: Sirach/Ecclesiasticus
Sus: Susanna
Tob: Tobit
Wis: Wisdom of Solomon
New Testament Book Abbreviations
Books in the NT also often have three-letter abbreviations. Book names like Jude, John, Acts, Mark, Titus, Luke, that are only four or five letters long, aren't typically abbreviated.
Col: Colossians
Cor: Corinthians
Eph: Ephesians
Gal: Galatians
Heb: Hebrews
Jas: James
Matt: Matthew
Pet: Peter
Phil: Philippians
Phlm: Philemon
Rev: Revelation
Rom: Romans
Thess: Thessalonians
Tim: Timothy
Biblical Citation Abbreviations
In most cases, you don't need to cite the Bible in a bibliography no matter what style you're using. If you do cite the Bible, there are a few slight differences in the abbreviations used for different citation styles. Mostly, you would just use the abbreviations listed earlier.
Abbreviations for Citing Parts of the Bible
When you're citing a specific line or verse from the Bible, you don't use page numbers. These abbreviations are standard for specific text locations in the Bible.
Ch. - Chapter
Chs. - Chapters
V. - Verse
Vv. - Verses
Bible Abbreviations for MLA Style Citation
Bible abbreviations in MLA style aren't common, because you would usually be required to write the entire name of the Bible version or book. MLA citation format for the Bible does have a few unique in-text citation abbreviations, however.
Apoc. - Apocalypse
Philem. - Philemon
Tit. - Titus
Shortened Abbreviations for Chicago Style Citation
Bible abbreviations in Chicago style, or the student version known as Turabian, are never used for in-text citations. You only use these abbreviations in footnotes, endnotes, or parenthetical notes.
You can use traditional abbreviations listed earlier or these accepted shortened versions in Chicago style. Choose one type of abbreviation and use it consistently. Any book not listed here does not have a shortened Chicago style version.
Am: Amos
Dn: Daniel
Dt: Deuteronomy
Est: Esther
Ex: Exodus
Ez: Ezekiel
Ezr: Ezra
Gn: Genesis
Hb: Habakkuk
Hg: Haggai
Is: Isaiah
Jb: Job
Jl: Joel
Jn: John
Jon: Jonah
Jo: Joshua
Jgs: Judges
Lk: Luke
Lv: Leviticus
Mi: Micah
Mk: Mark
Mt: Matthew
Na: Nahum
Nm: Numbers
Ob: Obadiah
Prv: Proverbs
Pt: 1 Peter
Ru: Ruth
Rv: Revelation
Sm: Samuel
Sg: Song of Solomon (Song of Songs)
Thes: Thessalonians
Tm: Timothy
Ti: Titus
Zec: Zechariah
Zep: Zephaniah
With thousands of Bible versions available around the world, it's nearly impossible to name them all. If you love learning about this historic book, discover some interesting facts about the Bible. Explore common versions of the Bible in your native language and share them in the comments.