demonstrate
dem·on·strate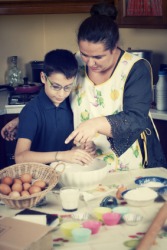 A mother demonstrates cooking.
verb
To demonstrate is defined as to show something by example.

An example of to demonstrate is to show someone how to cook a meal.

The definition of demonstrate is to prove something using logic.

An example of to demonstrate is to explain something clearly to make a point.

Demonstrate means to march or protest against something with a group.

An example of to demonstrate is to show support for an issue by joining a picket line.
---
demonstrate
transitive verb
-·strat·ed

,

-·strat·ing
to show by reasoning; prove
to explain or make clear by using examples, experiments, etc.
to show the operation or working of; specif., to show (a product) in use in an effort to sell it
to show (feelings) plainly
Origin of demonstrate
from Classical Latin
demonstratus
, past participle of
demonstrare
, to point out, show from
de-
, out, from +
monstrare
, to show: see muster
to show one's feelings or views by taking part in a mass meeting, parade, etc.
to show military power or preparedness
---
demonstrate
verb
dem·on·strat·ed, dem·on·strat·ing, dem·on·strates
verb
transitive
To show clearly and deliberately; manifest: demonstrated her skill as a gymnast; demonstrate affection by hugging.
To show to be true by reasoning or adducing evidence; prove: demonstrate a proposition.
To present by experiments, examples, or practical application; explain and illustrate: demonstrated the laws of physics with laboratory equipment.
To show the use of (an article) to a prospective buyer: The salesperson plugged in and demonstrated the vacuum cleaner.
verb
intransitive
To give a demonstration: described the dance step, then took a partner and demonstrated.
To participate in a public display of opinion: demonstrated against tax hikes.
Origin of demonstrate
Latin
dēmōnstrāre
dēmōnstrāt-
dē-
completely
; see
de-
.
mōnstrāre
to show
(
from
mōnstrum
divine portent
) (
from
monēre
to warn
; see
men-
1
in Indo-European roots.)
---
demonstrate

Verb
(third-person singular simple present demonstrates, present participle demonstrating, simple past and past participle demonstrated)
To display the method of using an object.
To participate in or organize a demonstration.
Origin
From Latin dēmonstrō ("I show")
---