noun
The definition of a pageant is a beauty contest or is an elaborate form of entertainment consisting of historical scenes and colorful costumes.

The Miss America beauty contest is an example of a pageant.
A performance of plays from the Renaissance and other entertainment acts is an example of a pageant.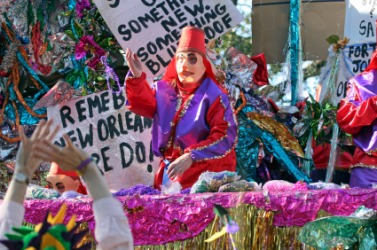 A Mardi Gras pageant.
---
pageant definition by Webster's New World
noun
Historical

an individual scene in a medieval mystery play
any of a series of movable outdoor platforms on which a mystery play was performed

a spectacular exhibition, elaborate parade, etc., as a procession with floats
an elaborate drama, often staged outdoors, celebrating a historical event or presenting the history of a community
empty pomp or display; mere show
Origin: Middle English pagent (with unhistoric -t) ; from earlier pagyn ; from Anglo-Latin pagina, scene displayed on a stage, stage ; from Classical Latin page
Webster's New World College Dictionary Copyright © 2010 by Wiley Publishing, Inc., Cleveland, Ohio. Used by arrangement with John Wiley & Sons, Inc.
---
pageant definition by American Heritage Dictionary
noun
An elaborate public dramatic presentation that usually depicts a historical or traditional event.
A spectacular procession or celebration.
Colorful showy display; pageantry or pomp.
Origin: Middle English pagin, pagent, moveable stage for a mystery play, mystery play, alteration of Medieval Latin pāgina, probably from Latin, page; see pag- in Indo-European roots.