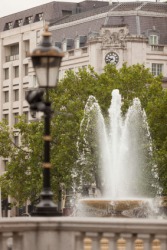 Water gushes from a fountain.
noun
The definition of a gush is a sudden overflow, whether emotional or physical.

An example of a gush is an outburst of water from a pipe.
verb
Gush is defined as to suddenly and plentifully flow, or to express a lot of feeling.

An example of gush is for blood to pour out of a wound.
---
gush
to flow out suddenly and plentifully; pour out; spout
to have a sudden, plentiful flow of blood, tears, etc.
to express oneself with exaggerated enthusiasm or feeling; talk or write effusively
Origin of gush
Middle English
guschen
, probably akin to Old Norse
gjosa
, to gush and
gustr
, gust
to cause to flow out suddenly and plentifully
a sudden, plentiful outflow
gushing talk or writing
---
gush
verb
gushed, gush·ing, gush·es
verb
intransitive
To flow forth suddenly in great volume: water gushing from a hydrant.
To emit a sudden and abundant flow, as of tears.
To make an excessive display of sentiment or enthusiasm: gushed over the baby.
verb
transitive
To emit abundantly; pour forth.
noun
A sudden copious outflow: a gush of tears.
Excessively demonstrative language or behavior.
Origin of gush
Middle English
gushen
perhaps of Scandinavian origin
; see
gheu-
in Indo-European roots.
---
gush

Origin
Middle English, possibly from Old Norse geysa ("to gush"); cognate with German "gießen" ("to pour") 81.151.115.134 16:13, 16 July 2013 (UTC)
---