austere

aus·tere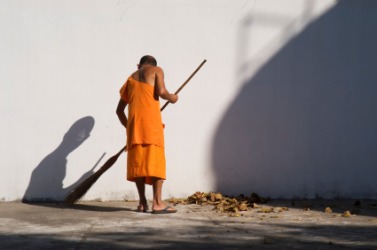 A monks lifestyle might be called austere.
adjective
The definition of austere is someone or something that is minimalistic, something that is very somber or someone inflexible or extreme.

An example of someone who might live an austere lifestyle is a monk.
An example of someone who might have austere mannerisms is a recent widow.
An example of someone who was austere is the character Nurse Ratched from Ken Kesey's novel One Flew Over the Cuckoo's Nest.
---
austere
having a severe or stern look, manner, etc.; forbidding
showing strict self-discipline and self-denial; ascetic
very plain; lacking ornament or luxury: austere surroundings

Rare

grave; sober
Origin of austere
Middle English from Old French from Classical Latin
austerus
, harsh from Classical Greek
aust?ros
, dry, harsh from
auein
, to dry from
auos
, dry from Indo-European base an unverified form
saus
, dry from source sear
---
austere
adjective
aus·ter·er, aus·ter·est
Severe or stern in disposition or appearance; somber and grave: the austere figure of a Puritan minister.
Strict or severe in discipline; ascetic: a desert nomad's austere life. See Synonyms at severe.
Having no adornment or ornamentation; bare: an austere style.
Origin of austere
Middle English
from
Old French
from
Latin
austērus
from
Greek
austēros
Related Forms:
---
austere

Adjective
(comparative austerer or more austere, superlative austerest or most austere)
Grim or severe in manner or appearance

The headmistress was an austere old woman.

Lacking trivial decoration; not extravagant or gaudy

The interior of the church was as austere as the parishioners were dour.
Origin
From Old French austere, from Latin austērus ("dry, harsh, sour, tart"), from Ancient Greek αὐστηρός (austēros, "bitter, harsh"), having the specific meaning "making the tongue dry" (originally used of fruits, wines), related to αὔω (auō, "to singe"), αὖος (auos, "dry").
See also:
austère
---