noun
The definition of an ascetic is a person who lives a life of strict self-discipline, contemplation and without pleasures and comforts.

An example of an ascetic is a monk.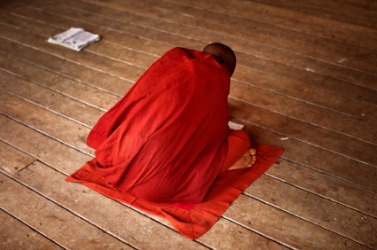 A monk is an ascetic.
---
ascetic definition by Webster's New World
adjective
of or characteristic of ascetics or asceticism; self-denying; austere
Origin: Ecclesiastical Greek askētikos, austere ; from Classical Greek laborious, exercised ; from askein, to exercise, train (for athletic competition)
noun
a person who leads a life of contemplation and rigorous self-denial for religious purposes
anyone who lives with strict self-discipline and without the usual pleasures and comforts
Origin: < Gr askētēs, monk, hermit
Webster's New World College Dictionary Copyright © 2010 by Wiley Publishing, Inc., Cleveland, Ohio. Used by arrangement with John Wiley & Sons, Inc.
---
ascetic definition by American Heritage Dictionary
noun
A person who renounces material comforts and leads a life of austere self-discipline, especially as an act of religious devotion.
adjective
Leading a life of self-discipline and self-denial, especially for spiritual improvement. See Synonyms at severe.
Pertaining to or characteristic of an ascetic; self-denying and austere: an ascetic existence.
Origin: Late Greek askētikos, from Greek askētēs, practitioner, hermit, monk, from askein, to work.
Related Forms: