noun
The definition of a pineapple is a tropical fruit with a tough outer shell that looks like a pine cone with edible yellow fruit inside.

A tropical fruit with edible yellow fruit that is used to make pina coladas and that is typically put on Hawaiian pizza is an example of a pineapple.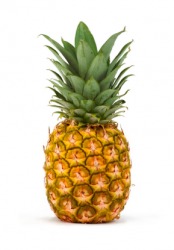 A pineapple.
---
pineapple definition by Webster's New World
noun
a juicy, edible tropical fruit somewhat resembling a pine cone: it consists of the fleshy inflorescence of a collective fruit developed from a spike of flowers
the terrestrial plant (Ananas comosus) of the pineapple family on which it grows, having a short stem and spiny-edged, recurved leaves

Slang

a hand grenade shaped like a small pineapple
Origin: Middle English pinappel, pine cone (see pine and amp; apple): mod. sense from shape of the fruit
adjective
designating a large family (Bromeliaceae, order Bromeliales) of tropical and subtropical, mostly epiphytic, monocotyledonous plants, including the Spanish moss
Webster's New World College Dictionary Copyright © 2010 by Wiley Publishing, Inc., Cleveland, Ohio. Used by arrangement with John Wiley & Sons, Inc.
---
pineapple definition by American Heritage Dictionary
noun
a. A tropical American plant (Ananas comosus) having large swordlike leaves and a large, fleshy, edible, multiple fruit with a terminal tuft of leaves.

b. The fruit of this plant.

Slang A hand grenade.
Origin: Middle English pinappel, pine cone : pine, pine; see pine1 + appel, apple; see apple.