verb
To celebrate is to engage in a joyous and often social activity or event, usually in honor of some specific event or achievement.

An example of celebrate is when you throw a party because of a graduation.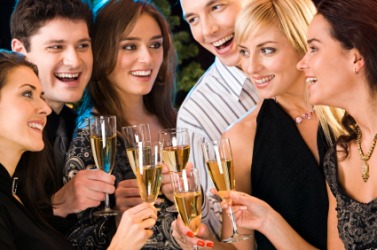 A group of people celebrating an occasion with glasses of champagne.
---
celebrate definition by Webster's New World
transitive verb
celebrated, celebrating
to perform (a ritual, ceremony, etc.) publicly and formally: solemnize
to commemorate (an anniversary, holiday, etc.) with ceremony or festivity
to honor or praise publicly
to mark (a happy occasion) by engaging in some pleasurable activity
Origin: Middle English celebraten ; from Classical Latin celebratus, past participle of celebrare, to frequent, go in great numbers, honor ; from celeber, frequented, populous; akin to celer, swift: see hold
intransitive verb
to observe a holiday, anniversary, etc. with festivities
to perform a religious ceremony
to mark a happy occasion by engaging in some pleasurable activity
Webster's New World College Dictionary Copyright © 2010 by Wiley Publishing, Inc., Cleveland, Ohio. Used by arrangement with John Wiley & Sons, Inc.
---
celebrate definition by American Heritage Dictionary
verb
cel·e·brat·ed
,
cel·e·brat·ing
,
cel·e·brates
verb
, transitive
To observe (a day or event) with ceremonies of respect, festivity, or rejoicing. See Synonyms at observe.
To perform (a religious ceremony): celebrate Mass.
To extol or praise: a sonnet that celebrates love.
To make widely known; display: "a determination on the author's part to celebrate . . . the offenses of another" (William H. Pritchard).
verb
, intransitive
To observe an occasion with appropriate ceremony or festivity.
To perform a religious ceremony.
To engage in festivities: went out and celebrated after the victory.
Origin: Middle English celebraten, from Latin celebrāre, celebrāt-, to frequent, celebrate, from celeber, celebr-, frequented, famous.
Related Forms:
celˈe·bra·toˌry

adjective