celebrate

cel·e·brate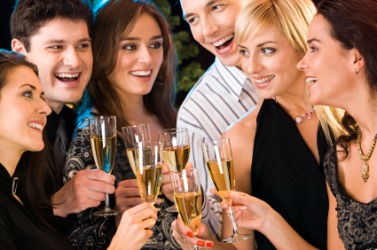 A group of people celebrating an occasion with glasses of champagne.
verb
To celebrate is to engage in a joyous and often social activity or event, usually in honor of some specific event or achievement.

An example of celebrate is when you throw a party because of a graduation.
---
celebrate
transitive verb
-·brat·ed

,

-·brat·ing
to perform (a ritual, ceremony, etc.) publicly and formally: solemnize
to commemorate (an anniversary, holiday, etc.) with ceremony or festivity
to honor or praise publicly
to mark (a happy occasion) by engaging in some pleasurable activity
Origin of celebrate
Middle English
celebraten
from Classical Latin
celebratus
, past participle of
celebrare
, to frequent, go in great numbers, honor from
celeber
, frequented, populous; akin to
celer
, swift: see hold
to observe a holiday, anniversary, etc. with festivities
to perform a religious ceremony
to mark a happy occasion by engaging in some pleasurable activity
---
celebrate
verb
cel·e·brat·ed, cel·e·brat·ing, cel·e·brates
verb
transitive
To observe (a day or event) with ceremonies of respect, festivity, or rejoicing. See Synonyms at observe.
To perform (a religious ceremony): celebrate Mass.
To extol or praise: a sonnet that celebrates love.
To make widely known; display: "a determination on the author's part to celebrate … the offenses of another" ( William H. Pritchard )
verb
intransitive
To observe an occasion with appropriate ceremony or festivity.
To perform a religious ceremony.
To engage in festivities: went out and celebrated after the victory.
Origin of celebrate
Middle English
celebraten
from
Latin
celebrāre
celebrāt-
to frequent, celebrate
from
celeber
celebr-
frequented, famous
Related Forms:
cel′e·bra·to′ry

adjective
---
celebrate

Verb
(third-person singular simple present celebrates, present participle celebrating, simple past and past participle celebrated)
To honour by rites, by ceremonies of joy and respect, or by refraining from ordinary business; to observe duly; to keep.

to celebrate a birthday

(intransitive) To engage in joyful activity in appreciation of an event.

I was promoted today at work—let's celebrate!

To perform or participate in, as a sacrament or solemn rite; to solemnize; to perform with appropriate rites.

to celebrate a marriage
Usage notes
In sense "to conduct ceremonies, to follow a custom", generally used of festive occasions, such as Christmas and birthdays. For more solemn occasions, particularly certain religious holidays ("holy days") and commemorations, the term observe is used instead, as in "This office will be closed in observance of Veterans Day."
Origin
From Latin celebratus, pp. of celebrare ("frequent, go to in great numbers, celebrate, honor, praise"), from celeber ("frequented, populous").
---