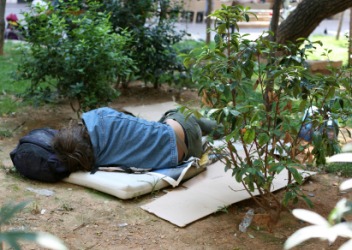 This mans situation is lamentable.
adjective
The definition of lamentable is something to view with regret or pity.

An example of lamentable is the situation of a homeless person.
---
lamentable
to be lamented; grievous; deplorable; distressing

Now Rare

expressing sorrow; mournful
Origin of lamentable
Middle English from Middle French from Classical Latin
lamentabilis
---
lamentable
adjective
Inspiring or deserving of lament or regret; deplorable or pitiable. See Synonyms at
pathetic
.
Related Forms:
---
lamentable

Origin
From Latin lāmentābilis ("full of sorrow, mournful; deplorable"), from lāmentor ("lament"), from lāmenta ("wailing, weeping").
---