dire

dire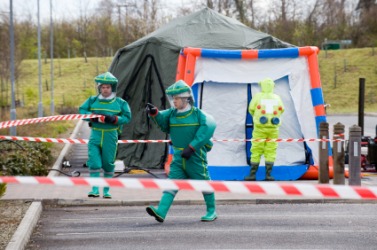 Emergency workers during a dire situation.
adjective
The definition of dire is something so bad or scary that it causes distress or terror.

An example of dire the need of a homeless person in winter.

Dire is defined as something that is urgent.

An example of dire is the warning to evacuate immediately.
---
dire
adjective
dir′er

,

dir′est
arousing terror or causing extreme distress; dreadful; terrible
calling for quick action; urgent: a dire need
Origin of dire
Classical Latin
dirus
, fearful from Indo-European base an unverified form
dwei-
, to fear from source Classical Greek
deimos
, panic
---
dire
adjective
dir·er, dir·est
Warning of or having dreadful or terrible consequences; calamitous: a dire economic forecast; dire threats.
Urgent; desperate: in dire need; dire poverty.
Origin of dire
Latin
dīrus
fearsome, terrible
Greek
deinos
Related Forms:
---
dire

Adjective
(comparative direr or more dire, superlative direst or most dire)
Origin
From Latin dirus ("fearful, ominous").
See also:
diré
---