adjective
The definition of magic is producing mysterious or extraordinary results.

An example of magic used as an adjective is in the phrase "magic potion" which means a potion that works in mysterious, unexplainable ways.
noun
Magic is defined as the art of using spells, charms and rituals to control supernational forces, or the art of performing tricks and illusions.

An example of magic is pulling a rabbit out of a previously empty hat.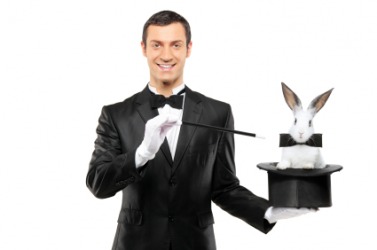 Was it magic that brought this rabbit out of the hat?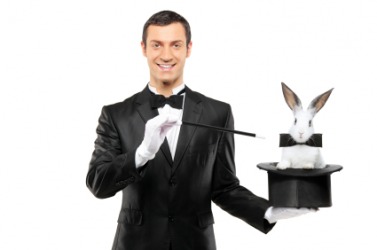 A magic trick.
---
magic definition by Webster's New World
noun
the use of spells, charms, and rituals in seeking or pretending to cause or control events or to govern certain natural or supernatural forces; occultism
such spells, charms, etc.

any mysterious, seemingly inexplicable, or extraordinary power or quality: the magic of love
the art or performing skill of producing baffling effects or illusions by sleight of hand, concealed apparatus, etc.
Origin: Middle English magike ; from Old French magique ; from Classical Latin magice ; from Classical Greek magikē (technē), magic (art), sorcery ; from magikos, of the Magi: see Magi
adjective
of, produced by, used in, or using magic
producing extraordinary results, as if by magic or supernatural means
Origin: L magicus < Gr magikos
Webster's New World College Dictionary Copyright © 2010 by Wiley Publishing, Inc., Cleveland, Ohio. Used by arrangement with John Wiley & Sons, Inc.
---
magic definition by American Heritage Dictionary
noun
The art that purports to control or forecast natural events, effects, or forces by invoking the supernatural.

a. The practice of using charms, spells, or rituals to attempt to produce supernatural effects or control events in nature.

b. The charms, spells, and rituals so used.

The exercise of sleight of hand or conjuring for entertainment.
A mysterious quality of enchantment: "For me the names of those men breathed the magic of the past" (Max Beerbohm).
adjective
Of, relating to, or invoking the supernatural: "stubborn unlaid ghost/That breaks his magic chains at curfew time" (John Milton).
Possessing distinctive qualities that produce unaccountable or baffling effects.
transitive verb
mag·icked
,
mag·ick·ing
,
mag·ics
To produce or make by or as if by magic.
Origin: Middle English magik, from Old French magique, from Late Latin magica, from Latin magicē, from Greek magikē, from feminine of magikos, of the Magi, magical, from magos, magician, magus; see Magus .
The American Heritage® Dictionary of the English Language, 4th edition Copyright © 2010 by Houghton Mifflin Harcourt Publishing Company. Published by Houghton Mifflin Harcourt Publishing Company. All rights reserved.
---
magic - Ologies & -Isms Definition
See also alchemy; divination; mysticism; spirits and spiritualism.
abracadabrism
a reliance upon incantations or charms, often inscribed upon amulets, to ward off calamity. —
abracadabra
,
n
.
apotropaism
the acting out of magic rites or the recital of incantatory formulas to ward off evil. —
apotropaic
,
adj
.
demonomagy
Obsolete
. forms of magic that require the invocation or assistance of demons.
illusionist
a conjurer or magician who creates illusions, as by sleight of hand.
jujuism
an African variety of magical fetishism characterized by the wearing of an exotic amulet called a
juju
. —
jujuist
,
n
.
legerdemain
skill in or practice of feats of dexterity that create a magical illusion. —
legerdemainist
,
n
.
metamorphosis
1.
change in form, structure, appearance, etc.
2.
magical transformation. —
metamorphic, metamorphous
,
adj
.
obeahism
1.
a kind of sorcery practiced by the black people of Africa, the West Indies, and elsewhere. Also called
obi, obism
.
2.
the wearing of an obeah, a fetish or charm. Also called
obi
.
powwowism
the belief among American Indians that a ceremony characterized by magic, feasting, and dancing can cure disease, ensure the success of a hunt or battle, etc. —
powwow
,
n
.
prestidigitation
the art of legerdemain; sleight of hand. —
prestidigitator
,
n
. —
prestidigitatorial, prestidigitatory
,
adj
.
pretematuralism
a condition of being exceptional or bizarre, beyond the realm of the ordinary course of nature. —
preternatural
,
adj
.
sorcery
the art, practices, or spells of a person who is supposed to exercise supernatural powers through the aid of evil spirits; black magic; witchery. —
sorcerer
,
n
. —
sorcerous
,
adj
.
sortilege
a form of divination involving drawing lots.
supernaturalism
1.
the condition or quality of existing outside the known experience of man or caused by forces beyond those of nature.
2.
belief in supernatural events or forces. Also
supranaturalism
. —
supernaturalist
,
n., adj
. —
supernatural, supernaturalistic
,
adj
.
supranaturalism
supematuralism. —
supranaturalist
,
n
.,
adj
. —
supranatural, supranaturalistic
,
adj
.
synecdochism
the belief that a part of a person or object can act in place of the whole and thus that anything done to the part will equally affect the whole.
thaumaturgism
the quality of being able to perform magie. —
thaumaturgist
,
n
. —
thaumaturgic
,
adj
. —
thaumaturgy
,
n
.
theurgist
a magician who persuades or compels a supernatural being to do or refrain from doing something. —
theurgy
,
n
. —
theurgic, theurgical
,
adj
.
voodooism
1.
the religious rites or practices, including magie or sorcery, of certain West Indian black people.
2.
the practice of sorcery. —
voodooist
,
n
.
warlockry
Archaic
. sorcery; the craft or practice of a warlock.
witchery
witchcraft or sorcery.
wizardry
the art or practice of a wizard; sorcery; magic. —
wizard
,
n., adj
.
Zendicism
Middle East
. 1. the practice of atheism.
2.
the practice of heretical magie, especially with fire. —
Zendic, Zendik
,
n
. —
Zendaic
,
adj
.
Ologies & -Isms. Copyright 2010 The Gale Group, Inc. All rights reserved.
---
magic - Computer Definition