lion

li·on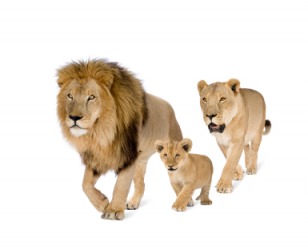 A lion family.
noun
The definition of a lion is a large feline mammal that eats meat and comes from northwest India and Africa, or a brave or strong person.

An example of a lion is the Angola.
An example of a lion is a person who is not afraid of great physical dangers.
---
lion
noun
pl.

li′ons

or

li′on
a large, powerful cat (Panthera leo), found in Africa and SW Asia, with a tawny coat, a tufted tail, and, in the adult male, a shaggy mane: in folklore and fable the lion is king of beasts
a person of great courage or strength
a prominent person who is in demand socially; celebrity
[pl.] Lions Club
Origin of lion
Old French from Classical Latin
leo
(gen.
leonis
) from Classical Greek
le?n
(gen.
leontos
)
beard the lion (in his den)
to approach, oppose, etc. an influential or feared person, as in a place where that person has the advantage
the Lion
Leo, the constellation and fifth sign of the zodiac
---
lion
noun
A large carnivorous feline mammal (Panthera leo) of Africa and northwest India, having a short tawny coat, a tufted tail, and, in the male, a heavy mane around the neck and shoulders.
A mountain lion.

a. A very brave person.

b. A person regarded as fierce or savage.

c. A noted person; a celebrity: a literary lion.

Lion See Leo.
Origin of lion
Middle English
from
Old French
from
Latin
leō
leōn-
from
Greek
leōn
of Semitic origin
lbℵ
Word History:
Old French
lion
is the source of English
lion,
and the Old French word comes from Latin
leō, leōnis.
The Latin word is related somehow to Greek
leōn, leontos
(earlier
*lewōn, *lewontos
), which appears in the name of the Spartan king
Leonidas,
"Lion's son," who perished at Thermopylae. The Greek word is somehow related to Coptic
labai, laboi,
"lioness." In turn, Coptic
labai
is borrowed from a Semitic source related to Hebrew
lābī'
and Akkadian
labbu.
There is also a native ancient Egyptian word,
rw
(where
r
can stand for either
r
or
l
and vowels were not indicated), which is surely related as well. Since lions were native to Africa, Asia, and Europe in ancient times (Aristotle tells us there were lions in Macedon in his day), we have no way of ascertaining who borrowed which word from whom.
lion
male (left) and female (right) lions
Panthera leo
---
lion

Noun
(plural lions or lion)
A big cat, Panthera leo, native to Africa, India and formerly to much of Europe. The term may apply to the species as a whole, to individuals, or to male individuals. It also applies to related species like mountain lions.

Tigers and lions share a common ancestor from a few million years ago.

A male lion.

(heraldry) A stylized representation of a large cat, used on a coat of arms.
A Chinese foo dog.
A famous person regarded with interest and curiosity.
Origin
From Old French lion, from Latin leō, (genitive: leōnis), from Ancient Greek λέων (leōn), likely a borrowing from a Semitic language; compare Proto-Semitic *labiʾ-. Many ancient languages possessed similar words for lion, including Akkadian 𒌨 (labbu) . It is unclear as to who borrowed the word from whom, though the ultimate source is likely non-Indo-European.
---
lion - Computer Definition
(1) (LiOn) See lithium ion.
(2) (L10N) (L-ocalizatio-N) See l10n.
(3) Version 10.7 of the Mac OS X operating system. Introduced in 2011, it is a major upgrade with numerous enhancements as well as iPad-like features. For example, apps can be run from an icon grid like Apple's iDevices (see Launchpad); apps can display full screen, and they can resume where the user left off when re-opened. Applications automatically save their data without user intervention, and the Mac's Exposé thumbnails of open windows and Spaces desktops were combined into one Mission Control function. The Mail app was redesigned like the iPad version, and new gestures were added to the trackpad. Befuddling users until they found out how to set it back the old way, the mouse scroll wheel direction was reversed to emulate trackpad movement. No More DVD Installation Lion was the first Mac OS version from Apple that was no longer offered via optical disc. Lion is available as a download or on a USB drive. See Mac OS X.
---